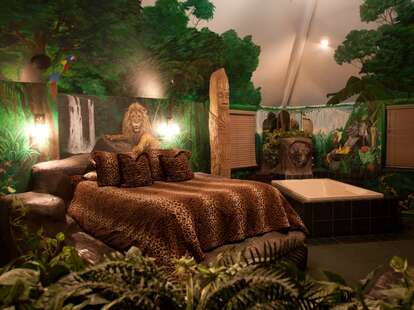 If you've decided you are too old for Disney World but aren't too old for playing dress up, you may be one of the many people interested in renting a fantasy suite for the night. According to Hotels.com, searches on its site for themed room bookings for Valentine's Day are up by 30% this year.
Maybe you are one of the countless people who have watched videos from @APrettyCoolHotelTour and have decided to similarly embrace the whimsy. Or maybe you and your partner just really like Star Trek. Either way, if you are thinking about staying in an out-of-the-ordinary hotel room, Hotels.com has a pretty comprehensive list of suggestions on where to stay, no matter what kind of fantasy you're into.
A bonus? Most of these rooms feature mirrored ceilings.
The Curtis, Denver
This hotel features a video game themed room, a Star Trek suite, and a Ghostbusters suite. You can check out available rooms here.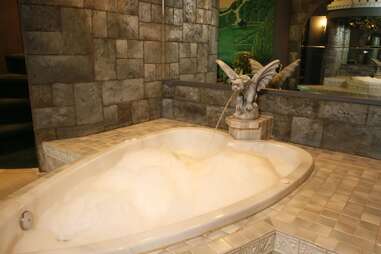 Black Swan Inn, Pocatello, Idaho
Do you love the outdoors but aren't too keen on camping? Bring the outdoors inside with one of the adventure themed rooms. There are also options for pirate and mermaid-themed rooms as well. You can check out room availability here.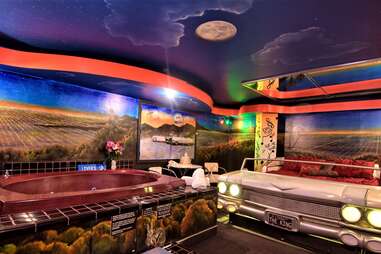 Americas Best Value Inn, Joshua Tree, California
For those of you who recently watched Elvis and want to experience the aesthetic but none of the social and sexual repression of the 1950s. Check out the hotel here.
Adventure Suites, North Conway, New Hampshire
Sometimes, there's a limit to LARPing. No matter how realistic your outfit is, there's no making your living room look less… modern. Switch up your surroundings here, where you can stay in rooms with provocative names like Dragon's Lair, Dungeon, Wolf Den, Love Shack and so many more wild options.
The Madonna Inn, San Luis Obispo, California
Perhaps one of the most outrageously decorated hotels on this list, everything from the pool to the entryway will make you feel like you're not really on Earth. The Madonna Inn has dozens of different themed rooms to choose from, so no matter what your niche is, you are likely to find something to your liking here.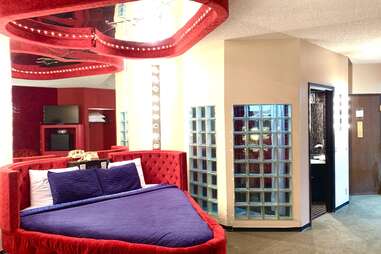 Don Q Inn, Dodgeville, Wisconsin
There's a hot air balloon-themed room, and there's Cupid's corner. No matter what you get up to this Valentine's Day, you're likely to find something to cater to your interests here. Check out availability here.
Inn of the Dove, Harrisburg, Pennsylvania
Each of these themed rooms come with some combination of a fireplace, a mirrored ceiling, and a jacuzzi. Perfect for someone who wants to know what it felt like to be a lothario in the 1980s. Check out the room options here.
Cove Haven Resort, Lakeville, Pennsylvania
You know this hotel, you've seen this hotel all over social media. Take your own dip into the giant champagne glass whirlpool by booking a stay here.
Chateau Avalon, Kansas City, Kansas
Right in the middle of Kansas, you can jet off to Havana or the Serengeti. There is even a Tuscan palace-themed room, and most are outfitted with deep soaking tubs. Check out all the options here.