Here Are the Most (and Least) Stressed Cities in America Right Now
COVID-19 pandemic-related stress included.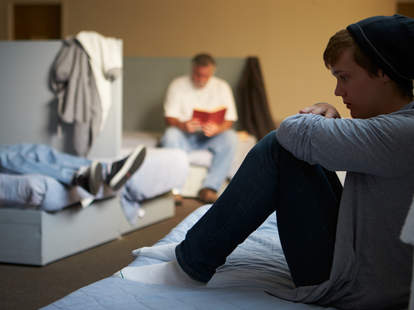 Monkey Business Images/shutterstock
While I planned my move to New York City I imagined the greatest threat to my livelihood would be overpriced groceries, not grocery shopping in a pandemic's global epicenter. But alas, here we New Yorkers are, sanitizing our $100 apples with a Lysol wipe, wondering if the rest of America is as stressed out as we are.
Well, it turns out, 24 cities in America are more stressed out than NYC right now? In fact, based on the finance website WalletHub's recent report on the most stressed cities in America, my overpriced COVID-19 cesspool falls at No. 26. The website compared more than 180 cities across 42 key metrics, including each city's divorce rates, weekly hours of work, and vulnerability to COVID-19, to find out how we're all doing. The results? Well, someone should really check on Ohio. 
The most stressed cities in America: 
1. Cleveland, Ohio
2. Detroit, Michigan
3. Birmingham, Alabama
4. Gulfport, Mississippi
5. Newark, New Jersey
6. Baltimore, Maryland
7. New Orleans, Louisiana
8. St. Louis, Missouri
9. Mobile, Alabama
10. Jackson, Mississippi
11. Montgomery, Alabama
12. Akron, Ohio
13. Toledo, Ohio
14. Charleston, West Virginia
15. Houston, Texas
The least stressed cities in America: 
1. Lincoln, Nebraska
2. Boise, Idaho
3. Sioux Falls, South Dakota
4. Fargo, North Dakota
5. Overland Park, Kansas
6. Bismarck, North Dakota
7. Madison, Wisconsin
8. South Burlington, Vermont
9. Fremont, California
10. Billings, Montana
11. Plano, Texas
12. Cedar Rapids, Iowa
13. San Jose, California
14. Gilbert, Arizona
15. Columbia, Maryland
Sorry, Cleveland, but you've seen better days. The Forest City ranked No. 1, largely because of its high poverty and divorce rates. Cleveland's struggling brethren Akron and Toledo followed closely behind in slots 12 and 13, respectively, for having the lowest average sleep per night, but not for divorce. At first I wondered if there was a sexy correlation there, but then I saw that Detroit, which is at No. 2, has both sleep issues and divorce issues. Sleep issues tend to be pretty closely tied with long working hours, anyway.
Sign up here for our daily Thrillist email and subscribe here for our YouTube channel to get your fix of the best in food/drink/fun.
Ruby Anderson is a News Writer at Thrillist. Send your tips to randerson@thrillist.com.