These Are the Most (and Least) Stressful Cities for Workers to Live in
These are the cities with the worst commutes, work times, and more.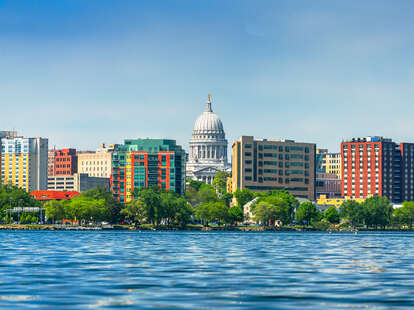 Listen, I've worked in a lot of cities doing all sorts of jobs and while there are some bosses that are better than others, work sucks even if you love it. But unfortunately most bosses aren't that great and most people don't love their jobs. But, one of the factors you might not even realize is affecting your life as a worker is the city you live in.
A new study from LLC.org ranked the best and worst cities for workers, based on eight factors: "average hours worked per week, average commute time, percentage of workers who commute before 7 am, percentage of workers who are not able to work remotely, single-income families, income growth rate, percentage of employees without health insurance and each city's crime rate."
Based on these factors, the five most stressful cities for workers are Houston, Texas; Arlington, Texas; Dallas, Texas; Memphis, Tennessee; and Las Vegas, Nevada. Meanwhile the five least stressful cities are Madison, Wisconsin; Fort Collins, Colorado; Fremont, California; Minneapolis, Minnesota; and Providence, Rhode Island.
None of the top or bottom five hold the distinction for longest commute. That honor goes to New York City, which boasts an average commute of 79.6 minutes.
Check out the ranking of the most stressful cities for workers below.
Where does your city rank?