It's hard to underestimate just how massive the United States is. All 50 states have their own identities, in addition to their particular porn browsing habits and largest employers, so it isn't unnatural to think of a vocation that fits perfectly with every state's vibe. 
Howmuch.net, a cost information site, crunched data complied by the Bureau of Labor Statistics' Occupational Employment Statistics survey to create a map of each state's most representative job. Unsurprisingly, given the breadth of industries scattered throughout the country, many of the jobs have huge wage disparities. After all, dog shampooers in New Jersey are never going to get paid as much as Texas petroleum engineers. 
For a look at the jobs across the country, take a look below: 
Recommended Video
These Tacos Are Made for Dunking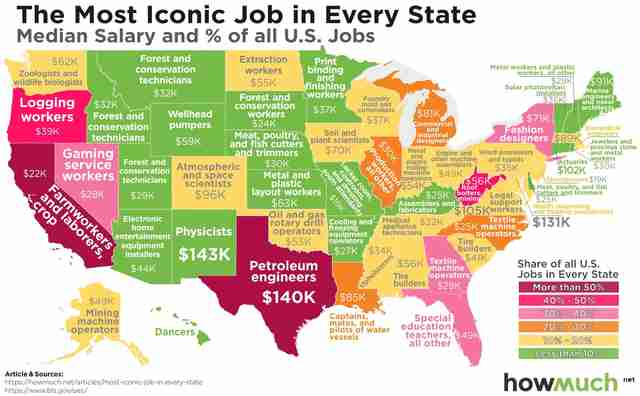 The data was crunched using something called a location quotient, which is used "to capture how common something is in a given location." 
As Howmuch.net explains: "For example, petroleum engineers are relatively hard to find across the county, but you can find more than 50% of them in Texas. We mapped these so-called 'iconic' jobs by color-coding their popularity in each state and we added the average salary as a reference."
That explains why you'll find logging workers toiling away for $39,000 annually in Oregon, or why fashion designers are most concentrated in New York (or perhaps within several blocks of one another in Manhattan), with an average salary of $71,000. The map definitely throws some curveballs: For instance, Nebraska appears to be the preeminent place for meat, poultry and fish cutters and trimmers, while Hawaii's most predictable job is a dancer.    
If the layout above is too jarring, 24/7 Wall St. compiled the map into a list, which makes it a bit more digestible. 
Sign up here for our daily Thrillist email and subscribe here for our YouTube channel to get your fix of the best in food/drink/fun.