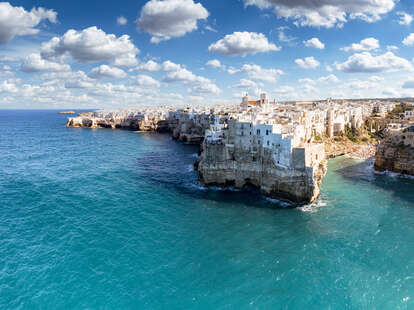 Polignano a Mare, Italy

| Roberto Moiola/Sysaworld/Moment/Getty Images
Polignano a Mare, Italy

| Roberto Moiola/Sysaworld/Moment/Getty Images
You know the peace of mind that comes from making plans to see a very friendly, no-drama, and extremely helpful friend? If the answer is yes, you'll be pleased to know that now you can feel the same way when traveling to select destinations.
The travel platform Booking.com just released its "Most Welcoming Places on Earth" ranking for 2023, and it features all the friendliest destinations in the world. To come up with the result, the company analyzed its very own Travel Review Awards, which give a medal to those accommodation and transport partners offering incredible stays for guests and that have an above-average amount of properties with impeccable reviews for friendly hospitality.
Considering the most welcoming cities on earth, Polignano a Mare, Italy, is at the top of the list with its gorgeous cliffs and beaches. Taiwan's Hualien City, instead, gets the silver medal, and travelers looking to visit its surroundings will find themselves immersed in nature, temples, and waterfalls. San Sebastián, Spain, snags the third spot, and in addition to being one of the world's most welcoming cities, it is also famous for its golden beaches and fine dining options.
Take a look at the complete list of the top 10 most welcoming cities on earth below:
1. Polignano a Mare, Italy
2. Hualien City, Taiwan
3. San Sebastián, Spain
4. Dresden, Germany
5. Klaipeda, Lithuania
6. York, UK
7. Ushuaia, Argentina
8. Porto De Galinhas, Brazil
9. Mexico City, Mexico
10. Gold Coast, Australia
Learn more about these destinations and what set them apart from their less friendly counterparts here.