It's Mother's Day. A day to show the mom in your life how much you love her and care about her in the form of flowers, brunch, or maybe a happy hour.
While you'd love to whisk the day's honoree on a luxury vacation with a private chef, we're all showing love on a budget. With that in mind, here's a handy list of popular restaurants offering deals for Mother's Day worth taking advantage of, especially if you're a mom looking to live it up on your own for the day. (Sometimes the best gift is to be left alone to indulge and treat yourself for the day.)
Recommended Video
Schmear No More With These Stuffed Bagel Balls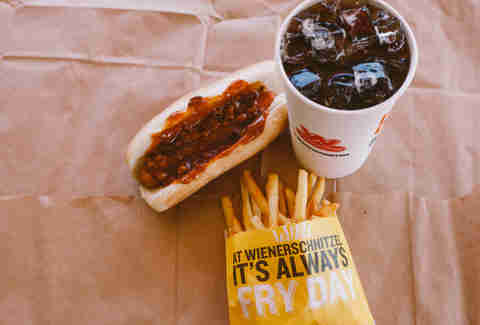 Free food and drink for Mother's Day
Wienerschnitzel
The deal: All mothers get a totally free chili dog, small fries, and small soda, as long as they can prove they're among the folks being celebrated. That can include bringing your family or a family photo. You can even just share a family story with an employee.
When: May 13 
Shake Shack
The deal: Every mom that stops into the Shack will be given a free scoop of ice cream. You don't even have to buy anything. Ice cream!
When: May 13
Pilot Flying J
The deal: Moms get a free coffee (any size) when they swing into a Pilot Flying J. Download the myPilot app starting May 11 and you'll get the freebie. 
When: May 11 - 13
Chuck E. Cheese
The deal: Grab a free dessert with the purchase of any large pizza. Dessert options include a giant warm cookie, cinnamon dessert pizza, small Dippin' Dots, and churros. Just mention the coupon code #5585 to your server.
When: May 12 - May 27
Tijuana Flats
The deal: Mention the promo code in this post and you eat free on Sunday if you're a mom.
When: May 13
Ibotta
The deal: The mobile shopping app will hook you up with a free-ish mimosa. Beginning at midnight May 13, log into the app to redeem your mimosa. Here's how it works: Go anywhere you'd like, snap a picture of the receipt, and the app will give you a $5 coupon to spend on whatever you'd like. (You get $5 for your mimosa whether it's a $2 mimosa or it's a $20 mimosa.)
When: May 13
Cici's Pizza
The deal: With the purchase of an adult buffet and drink, the kiddos that call you mom get a free buffet with this coupon. That seems unfair because it's Mother's Day, but there it is.
When:  May 13
Hot Dog on a Stick
The deal: Mention the chain's social media posts and get a free turkey or veggie dog.
When: May 13
TCBY
The deal: Your first six ounces of frozen yogurt are free on Sunday. High five. 
When: May 13
Shoney's
The deal: Moms can grab a free slice of strawberry pie when they buy a buffet or entrée.
When: May 13
Hooters
The deal: Yeah, it's not top of mind for a Mother's Day dining experience. However, moms are getting a free meal with a drink purchase at participating locations. The free meal options will vary by location and some locations are doing a buy-one-get-one-free deal instead.
When: May 13
Arooga's
The deal: Mothers get a free meal with the purchase of another meal and beverage. Only one mom per check, though.
When: May 13
Beef 'O' Brady's
The deal: Participating locations are offering moms a free meal up to $10 with the purchase of another meal of equal or lesser value.
When: May 13
Burger 21
The deal: Share a family photo or embarrassing story about your kids and you'll get a free small shake. 
When: May 13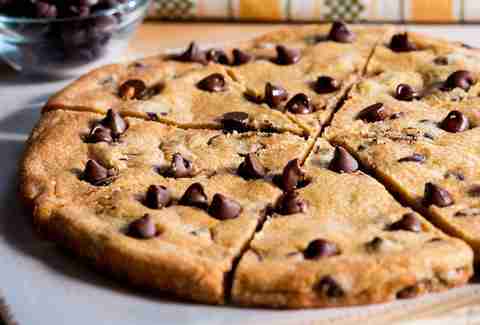 Food deals for Mother's Day
Cheesecake Factory
The deal: Hook your mom up with some future cheesecake and get something for yourself. For every $50 you spend on Cheesecake Factory gift cards, you'll get a free $10 gift card.
When: May 7 - May 13
Red Lobster
The deal: If the mom in your life needs some lobster, get her a gift card. For every $75 you drop, you'll get two bonus gifts good for $10 off a meal or a free appetizer. The bonuses are good between July and September.
When: May 1 - July 1
Panera
The deal: For every $50 you drop on Panera gift cards, you pick up a bonus $10 gift card. The bonus gift card must be redeemed in the month of June. 
When: All of May
HopCat
The deal: With any dine-in purchase moms get a free order of Crack Fries.
When: May 13
Minibar Delivery
The deal: The booze delivery service is offering $20 off your first purchase of $40 or more with the code "MOM" for the entirety of Mother's Day weekend.
When: May 11 - May 13
Bonefish Grill
The deal: It's a little weird to take your mom out to give yourself a discount later on, but here we are. Dine at Bonefish Grill on Mother's Day and get 15% off your next visit.
When: May 13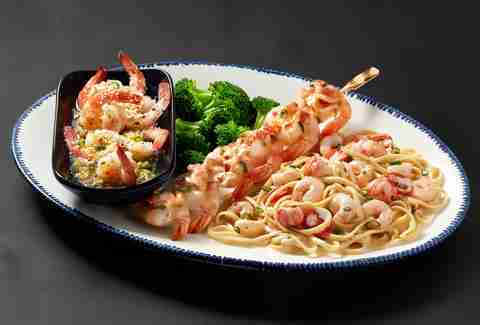 Other Mother's Day Deals
Whole Foods
The deal: Amazon Prime members are reaping the rewards of the Whole Foods/Amazon merger on Mother's Day. You can get a 20-stem tulip bouquet for $15 all over the US. If you're a Prime member, it'll only cost you $10. 
When: May 9 - May 15
 
More Mother's Day deals?
If you know deals for Mother's Day that we missed, email us at news@thrillist.com and we'll add 'em here. (A link to where you saw the deal is greatly appreciated.)
Sign up here for our daily Thrillist email and subscribe here for our YouTube channel to get your fix of the best in food/drink/fun.