Owner Reunites With Dog Missing for 3 Years After Seeing Him on a Beer Can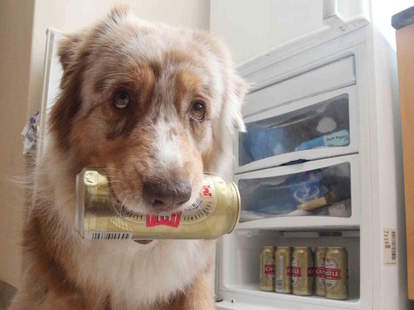 There's a heartwarming trend in the beer industry right now: countless craft breweries have begun printing adoptable dogs on their cans in an effort to find them homes. And while the idea is sweet all on its own, the story just got even better. A Minnesota-based woman found her missing pup of three years after spotting him on one of those beers.  
Earlier this month, Florida brewing company Motorworks partnered with a local shelter to release its Adoptable Dog Cruiser Kölsch 4-packs, with proceeds benefitting the local shelter. Soon after, Monica Mathis spotted what she thought to be her long-lost terrier mix, Hazel, who had disappeared from her yard back in 2017. Despite searching for her, the pup never reunited with the Mathis family -- until now.
"Oh my gosh that looks like my dog, I think that's my dog," Monica told a local news outlet after spotting the beer on social media. "I have no idea how she got to Florida."
Mathis was quick to act on her suspicion. "I sent everything I could find -- all the pictures so I could stop an adoption process from happening because I could've lost her again," she added. "I was amazed, I was crying. An emotional wreck."
Now the pair will be reunited ahead of Hazel's seventh birthday. Nonprofit Friends of Manatee County Animal Services is even footing the bill for Mathis' travel between Florida and Minnesota.
Sign up here for our daily Thrillist email and subscribe here for our YouTube channel to get your fix of the best in food/drink/fun.
Megan Schaltegger is a staff writer at Thrillist. Follow her @MegSchaltegger.