Baja Blast Is Coming Back to Stores for the First Time in Years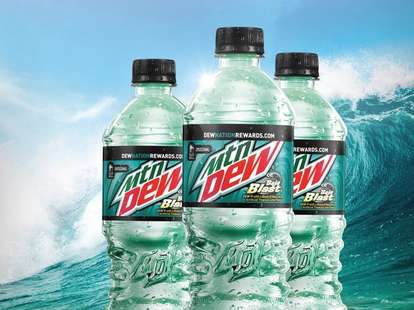 Courtesy of Mountain Dew
Courtesy of Mountain Dew
The fact that you can only get Baja Blast at Taco Bell is a huge part of why it's such a legendary beverage (Baja is also a fun word to say, which helps). The drink's scarcity makes it feel like the carbonated rite at the shrine of absolute indulgence that is any given Taco Bell. But as special as that combination is, sometimes we deserve to get as much as we want, whenever we want.
And this summer is that time: Baja Blast is about to be back in stores.
This limited return to grocery-store aisles, gas stations, and the mini-fridges of 30-year-olds who live in their mother's basements will take place starting April 23 and last through the summer, which is definitely the appropriate time to drink Baja Blast. It'll come in 20-ounce bottles and 12 packs of 12-ounce cans, but fingers crossed for a crossover that's a miniature wave pool of pure Baja.
This summer will be the first time in two years that the drink has been sold in stores, so definitely don't waste it. We don't know the next time you'll have the opportunity to drink it both to and from Taco Bell.
If you bought enough of those cans you could even take a Baja Bath. Or you could also just drink it. That's the beauty of having it in your own home: It's up to you.
Sign up here for our daily Thrillist email and subscribe here for our YouTube channel to get your fix of the best in food/drink/fun.