Vermont Will Pay You $10,000 to Move There and Work From Home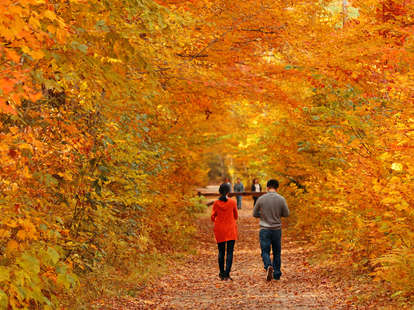 Shutterstock.com
Shutterstock.com
If maple syrup, beautiful fall foliage, and a future that involves legal marijuana sounds like a good time, Vermont has an offer for you. Governor Phil Scott signed a bill into law Wednesday that will pay remote workers $10,000 over two years if they'll move to Vermont.
To be eligible for the program, you need be a full-time employee working remotely or from a co-working space for a company outside of Vermont. The remote worker grants are first-come, first-served, reports Quartz. The funds are available "for qualifying remote worker expenses in the amount of not more than $5,000.00 per year, not to exceed a total of $10,000.00 per individual new remote worker over the life of the program." Qualifying expenses include relocation costs, coworking space memberships, home internet, computer software and hardware, and other items.
The program has been launched because Vermont has a problem. Its population is aging faster than other states in the US. (That's the state's median age. There's nothing in the water accelerating the aging process.) The aging population has created a tax base that is shrinkingly quickly. The new law is part of the effort to curb these problems.
The grants will be made available to new residents relocating on or after January 1, 2019. There's money for around 100 new remote workers to enter the state during the first three years of the program. It is budgeted to allow 20 additional workers per year after that initial phase.
If you're unsure about the proposition, you could participate in one of the state's "Stay to Stay Weekends," where tourists are connected with realtors and employers to get a feel for Vermont. Those events take place in Brattleboro, Manchester, and Rutland over the weekends of June 1–4, August 10–13, and October 19–22. The program hopes to convert some of the state's 13 million annual tourists into permanent residents.
It's a nice deal if you're into gorgeous falls, skiing, and very cold winters.
h/t Mental Floss
Sign up here for our daily Thrillist email and subscribe here for our YouTube channel to get your fix of the best in food/drink/fun.

Dustin Nelson is a News Writer with Thrillist. He holds a Guinness World Record but has never met the fingernail lady. Follow him @dlukenelson.