'Mr. Robot' Creators Just Secretly Shared the Season 2 Premiere on Social Media
USA
USA
Sunday night held an interesting surprise for fans of the award-winning Mr. Robot. During Sunday's Facebook Live event, things took an unexpected turn about 20 minutes into the Q&A. The feed was interrupted by a masked man who told viewers, "Why waste more time on pointless speculation? You deserve something new, something unexpected, something you've never seen before."
The screen then read, "What we are about to show you is top secret. Not even the 1% of the 1% have seen it. So feel free to brag and gloat all you want. But no spoilers. You have been warned." It was followed by the first 40 minutes of the Season 2 premiere, which will be a two-parter.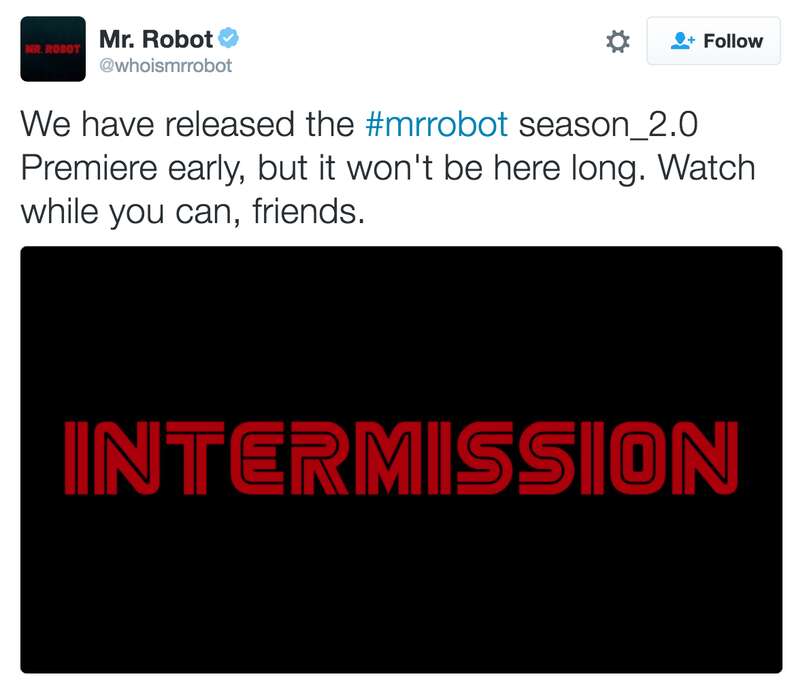 The tease didn't stop at the Facebook Live interruption. As soon as it aired, it disappeared. Then a tweet popped up allowing fans a peek at the first 40 minutes on Twitter. Then, it too disappeared.
The PR stunt appears to have been repeated on Snapchat, YouTube, and the USA website, according to a schedule shared by USA on Twitter.
And it was a stunt, but it's a pretty great stunt that dovetails perfectly with the themes of the show. A show about a hacker having a secret "hack" airing of the premiere is completely on point. It strikes the perfect tone to tease fans and whip the lucky ones into a fervor days before the show is scheduled to return.
If you missed the secret airing, count down the hours to Wednesday's premiere by reading the show's Wikipedia page to understand the plot of Season 1 (it's ok, the cast had to do it too), then watch the Season 2 trailer and wait like the everyone else who missed this brief window into the future.
Sign up here for our daily Thrillist email, and get your fix of the best in food/drink/fun.
Dustin Nelson is a News Writer with Thrillist. He just got a kitten named Fitzcarraldo, but is wondering if he made a mistake not naming it Chareth Cutestory. Follow him @dlukenelson.