MSC Cruises Just Changed Its Cancellation Policy Due to Coronavirus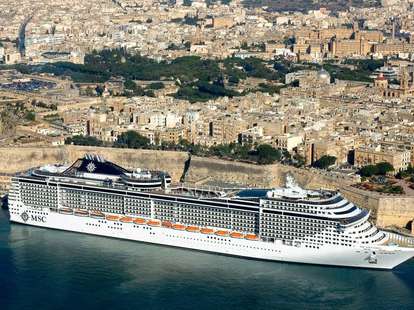 Just last week, Royal Caribbean cruises announced a new policy that allows customers to cancel their travel plans and reschedule a trip without financial consequence. On Monday, MSC cruises is followed suit, announcing a cruise assurance program that allows future passengers the exact same privilege.
MSC's new policy goes into effect on March 10 and is applies to all trips departing on or before July 31, 2020. If you book a cruise that falls under the program, you'll be able to cancel and reschedule two days before boarding, but you won't benefit if you just want to cancel your cruise entirely. The "Future Cruise Credit" you'll receive will be valid on MSC cruises from December 31 onward.
MSC also announced additional measures it's taking to keep passengers safe, including additional pre-embarkation screening, enhanced onboard cleaning, and even denying boarding from people traveling from at-risk areas. "We want to reassure you that everyone's health and safety on our ships is our top priority and we can confirm there have been no cases of coronavirus on board any of our ships," the company said in a statement.
Look out for more cruise policy changes in the future. Soon-to-be cruisers are feeling governmental pressure to cancel their plans. On Sunday, the State Department warned travelers not to travel on cruises right now; particularly, if you're older or have an underlying health condition.
Sign up here for our daily Thrillist email and subscribe here for our YouTube channel to get your fix of the best in food/drink/fun.