Mtn Dew Just Unleashed a Baja Blast Hot Sauce
Yes, Mtn Dew is making a hot sauce.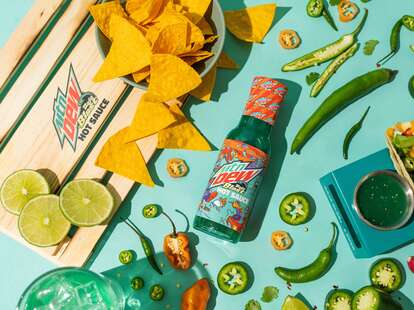 Courtesy of Mtn Dew
Courtesy of Mtn Dew
If Mtn Dew reminds you of a rapidly edited montage of kids on skateboards and youthful-looking adults climbing a rock face, this will seem right on brand for the neon-color liquid purveyor.
Mtn Dew--née Mountain Dew--has announced the launch of Mtn Dew Baja Blast Hot Sauce. Yes. Mount... err, Mtn Dew. Baja Blast. Hot Sauce. How could such a thing exist, you might ask. Part of the answer is that it will only exist in a very small quantity.
The company will release just 750 bottles in partnership with iBurn, a "spicy specialty grocer." That limited quantity means that it won't be available in stores, not even at iBurn. You'll have to enter to win a bottle on Mtn Dew's social media (which uses the old @MountainDew spelling) or on this site.
This, strangely enough, is not the first time Mtn Dew has dipped its toes into those capsaicin-laced waters. It created a hot sauce with NBA star Joel Embiid in 2020. Maybe that experience will prove to be a boon, and this will be the moment when the Baja Blast Hot Sauce empire was founded. Maybe.