This California Winery Will Pay You 6 Figures & Cover Your Rent in Wine Country
Boozy dream job alert.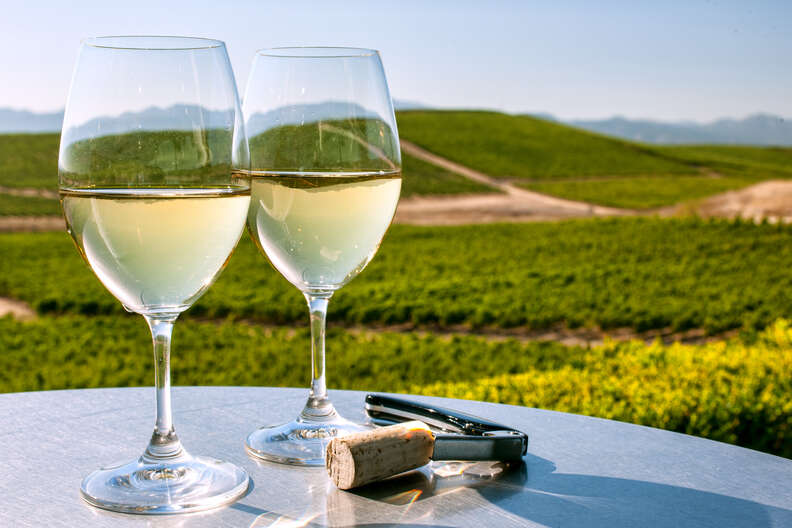 Picture it.

| FloridaStock/Shutterstock
Picture it.

| FloridaStock/Shutterstock
If you've developed a heightened interest in wine over the past year, let's just say you're not alone. If you've simultaneously developed an interest in finding a gig that doesn't literally crush your soul between the hours of 9 and 5, listen up! Not only will it get you winemaking experience, this one will get you paid.
Sonoma's Murphy-Goode winery is offering a boozy dream job: Work at their winery in sunny California for a year, rent-free, for $10,000 a month. Plus 30 cases of wine.
"Sustainability is such an important factor to everything we do," says winemaker Dave Ready Jr., who the winner will be shadowing during the first 90 days of the gig. "And a big part of being sustainable is also being good in your community. The economy hasn't been great to a lot of people, so we're doing what we can to help."
Besides the monthly check and booze part, the winner will get the keys to a three-bedroom house in Healdsburg, within walking distance to the Russian River. "In my belief it's the greatest little wine town in California," says Ready. "There's great restaurants, fun bars, great shopping, great local community. We have live concerts every Tuesday during the summer."
This is actually the second time that Murphy-Goode has offered an opportunity like this. Twelve years ago, also in the midst of an economic downturn, they put out feelers for what would now be called a "social media influencer." They attracted so many qualified candidates, they ended up hiring three. "There's a chance that could happen again," says Ready. At the end of this year-long gig—which they're calling "A Really Goode Job"—there's even a chance to stay on permanently.
The wine world is notoriously difficult to break into; it's one of those Catch 22s where to work in the business, you need experience working in the business. (Ready's own path to winemaking began with a father who co-owned a winery.) Getting a foot in the door can be a costly endeavor, typically requiring a degree in oenology and a willingness to work for free. And mentorships in major US wine regions are difficult to come by, especially for a person of color; the industry is overwhelmingly white and male.
To help bridge the gap, organizations like the Association of African American Vintners, The Hue Society, Wine Unify, The Roots Fund and Wine Empowered, have popped up to offer scholarships, mentorships, and free tuition opportunities for women and people of color. But it's a slow process.
Which makes this dream job all the more dreamy. "We know there are so many talented people out there right now who are looking for a career change, or trying to get their foot in the door," Ready says. "Perhaps your passion isn't necessarily winemaking. Perhaps your passion is direct to consumer and you want to manage the tasting room in downtown Healdsburg. Or you want to work for the winery in culinary." After you learn the ins and outs of harvest season, you're free to let your interests guide you.
Applications (basically a 60-second video) are due at the end of June. Some tips: It might help to show off any musical passions. Pre-winery, Dave Ready Sr. was a radio DJ in the 1970s. And Dave Jr. (who may or not have been drinking wine during our phone interview—it was hard to tell) was a Grateful Dead acolyte, following the band around on tour. At one point he worked for the Wirra Wirra winery in Australia purely based on Bob Weir, a founder of the Dead. ("I'm not even kidding. If there was a Garcia Garcia I would have gone there.")
So play your cards right, and every night could be a wine and jam session.
Vanita Salisbury is a Senior Travel Writer at Thrillist, which she might have to reconsider if they offer her this winery thing.