Many Music Fans Are Traveling 500 Miles or More for Concerts Right Now
A new study shows music fans aren't afraid of making a big trek to shows and festivals.
As we've seen, Beyoncé fans are willing to cross an ocean to see Queen Bey perform live, and Taylor Swift's fans have been creating hotel pricing chaos in the wake of her tour. But super fans for the world's biggest pop stars aren't the only ones making a trek to see some live music. A new study from Price4Limo reveals that more than one in 10 fans are actually traveling 500 miles or more to attend concerts, and the artists most commonly traveled long distances for aren't necessarily the ones you'd think.
To determine which fan bases are traveling the most and spending the most on live music, the researchers behind the study surveyed 1,000 music fans. To learn the average amount of time fans traveled for shows, they "reverse-calculated [the time] based on the distance traveled and mode of transportation taken," Price4Limo's study explains. "For planes, we used the equation (distance / 517) + 3. The 3 accounted for an estimated three hours in the airport. For ground travel, we assumed an average speed of 45 mph for cars and 90 mph for trains."
So what exactly did all those formulations reveal? Let's check it out.
Overall, New York City, Los Angeles, and Las Vegas are the top concert destinations for music fans across the board. As far as genres are concerned, blues, indie rock, and folk music fans were most likely to say they have traveled to a different city to see a concert or festival.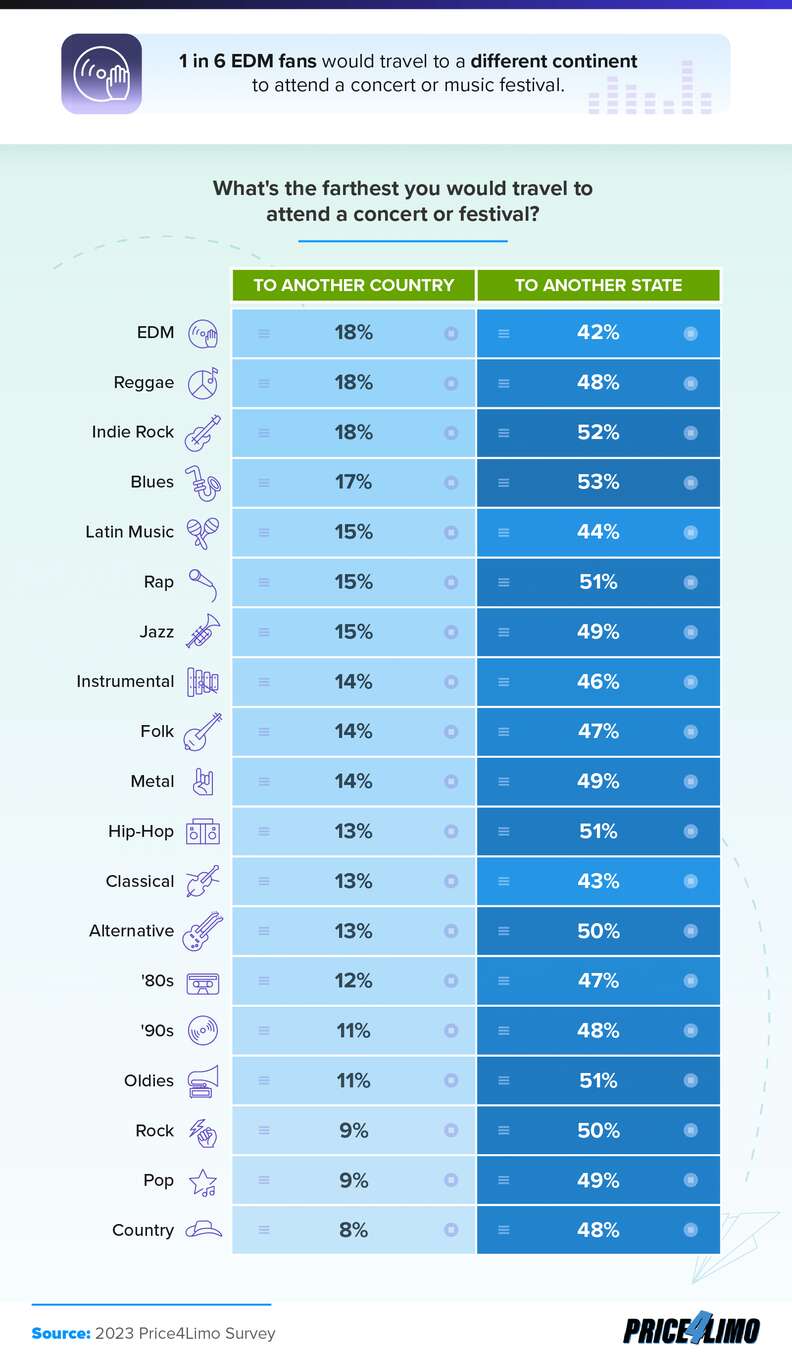 The study found a pretty wide variation in how far different genres of music fans were willing to go as far as that "other city" is concerned, though. While most classical music fans would reportedly not travel outside of their own state for a concert, more than one in six EDM, reggae, and indie rock fans said they would travel to a different continent for a festival or concert.
Finally, when it came to which genres and artists were inspiring fans to put in the most time and effort to see their shows, a wide disparity was observed was well.
On average, fans of pop music have traveled the furthest to see The Weeknd, Dua Lipa, and Ariana Grande. Among other genres, music fans are also putting on significant miles to see Diplo, Bailey Zimmerman, Rae Sremmurd, Slayer, and Pink Floyd. Rap fans are putting in the hours, spending an average of 13 hours traveling via plane or train to attend a concert or festival, compared to the 54% of pop fans who drove less than 100 miles in order to attend a concert or festival.
What's the furthest you've ever traveled for live music?