Here Are the Current Lineups for 2024's Biggest Music Festivals
Festival season is no longer restrained to just a few months. It is a year-round affair.
Music festival season used to be more or less confined to the spring and summer months. But as festivals have grown more popular, the season has continued to expand more and more, and it now takes up nearly the entire calendar year. When you factor in the endless opportunities to travel abroad for festivals like Lollapalooza Brazil, it can be hard to keep track of all the different festival locations, dates, lineups, and prices.
That's where Thrillist comes in. We've got our eyes on all the biggest festivals of the year, and the information you need to plan your festival experience. Whether you're into raving until the sun rises or vibing out in nature—or a mixture of both, the festival lineups below will offer you a wide variety of sonic escapes.
As it turns out, we haven't even hit peak holiday season but there are already plenty of 2024 festivals on the calendar to look forward to next year. Check back regularly for updates on newly announced lineups for all the music festivals you can't wait to attend, as well as new ones you've never even heard of.
Innings Festival
Tempe, Arizona
The sixth annual Innings Festival is returning to Beach Park & Arts Park in Tempe, Arizona from February 23–24, 2024. Headliners this year will include Red Hot Chili Peppers, Hozier, Greta Van Fleet, Macklemore, Jimmy Eat World, Third Eye Blind, and more. The festival will also include appearances by MLB legends Ryan Dempster, Matt Kemp, Luis Gonzalez, and more. Two-day general admission tickets start at $310 each (fees included) and additional details can be found at InningsFestival.com/Innings.
Extra Innings
Tempe, Arizona
Innings has proven to be such a popular music festival they are expanding it to a second weekend (with a totally unique lineup) for 2024. Extra Innings will take place March 1–March 2, 2024 at Beach Park & Arts Park in Tempe, Arizona. Headliners will include Chris Stapleton and Dave Matthews Band, and they'll be joined by Turnpike Troubadours, Noah Kahan, Sheryl Crow, Elle King, Ryan Gingham with the Texas Gentlemen, Morgan Wade, and more. Tickets start at $275 each (no fees) for two-day general admission. More details and ticketing information can be found at InningsFestival.com/Extra/.
Rolling Loud California
Inglewood, California
Rolling Loud California 2024 will be held on the Hollywood Park grounds next to SoFi Stadium from March 15–17, 2024. Headliners of the three-day festival are set to include Nicki Minaj, Post Malone, and Metro Boomin, while additional performers will include YG, Tyga, Future, Don Toliver, Bryson Tiller, Summer Walker, Big Sean, Flo Milli, Rae Sremmurd, and many more. Three-day general admission tickets for the festival start at $299 each, with various VIP packages also available. More details can be found at RollingLoud.com.
Ultra Music Festival
Miami, Florida
Ultra Miami 2024 will take place in Miami between March 22-24, 2024. The lineup announced so far includes Adam Beyer, Afrojack, David Guetta, and Calvin Harris. Additional performances include Tiesto, Peggy Gou, Nora En Pure, Artbat, and Nina Kraviz. Tickets for three-day passes start at $350. You can purchase tickets and explore the lineup here at UltraMusicFestival.com.
Two Step Inn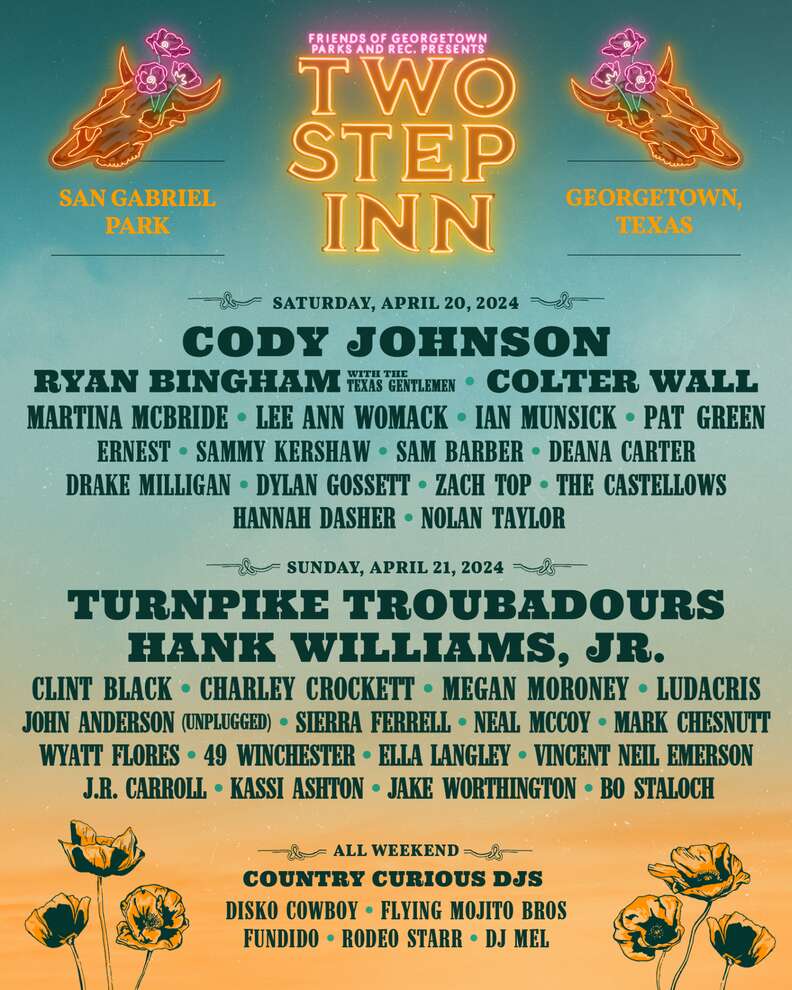 Georgetown, Texas
Central Texas is playing host to the second annual Two Step Inn festival next spring. The two-day festival will take place at San Gabriel Park in Georgetown, Texas from April 20–21, 2024. Headliners Cody Johnson and Turnpike Troubadours will join acts including Hank Williams, Jr., Martina McBride, Lee Ann Womack, Charley Crockett, Ludacris, Sierra Ferrell, and more. Two-day tickets start at $349 (fees included). More details on the festival, including its Giddy Up+ and Saddle Up upgrades, are available at TwoStepInn.com.
Rockville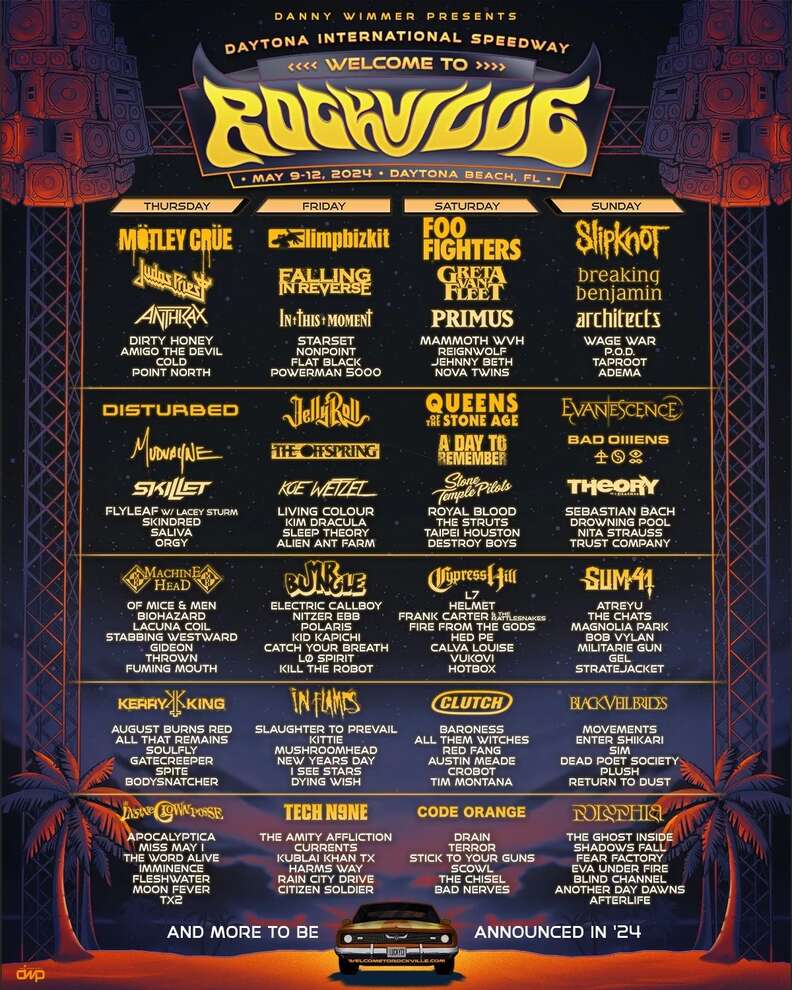 Daytona Beach, Florida
This four-day festival in Daytona Beach will take place between May 9 and May 12, 2024. Headliners of the festival include Motley Crue, Limp Bizkit, Foo Fighters, and Slipknot. Additional performers will include JellyRoll, Evanescence, Queens of the Stone Age, Cypress Hill, and Sum 41. Four-day passes will start at $350, after fees. You can explore the lineup, buy tickets, and more at WelcometoRockville.com.
When We Were Young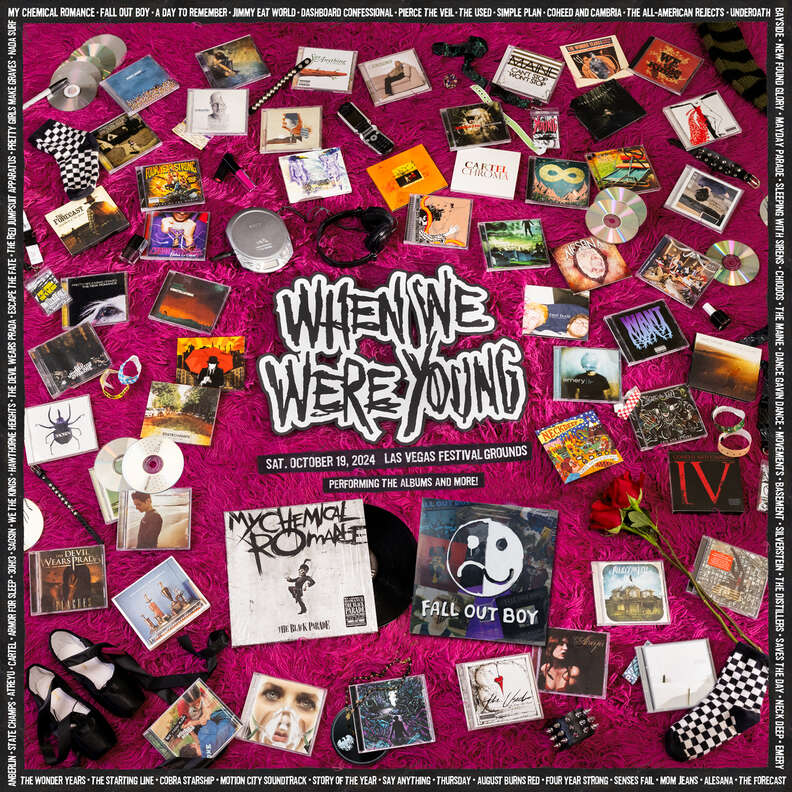 Las Vegas, Nevada
This two-day throwback emo and pop punk-focused festival (which originally was a one-day-only affair!) will take place in Las Vegas on October 19-20, 2024. The headliners include My Chemical Romance, Fall Out Boy, Jimmy Eat World, Simple Plan, and Dashboard Confessional. Additional performers will include The All American Rejects, New Found Glory, and Mayday Parade. General admission tickets start at $325. You can explore the lineup, buy tickets, and check out more details at WhenWeWereYoungFestival.com.
Opheli Garcia Lawler is a Staff Writer on the News team at Thrillist. She holds a bachelor's and master's degree in Journalism from NYU's Arthur L. Carter Journalism Institute. She's worked in digital media for seven years, and before working at Thrillist, she wrote for Mic, The Cut, The Fader, Vice, and other publications. Follow her on Twitter @opheligarcia and Instagram @opheligarcia.