Someone Put Mustard on a Pizza and the Internet Is Very Offended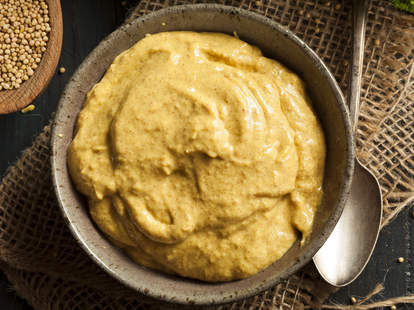 Contrary to what you may believe, it is possible to put anything on a pizza. You'll call it sacrilege, blasphemy, a desecration, and affront to everything you hold dear about pizza, but dressing it in mustard isn't an offense punishable under the law. So you're going to have to deal with the fact that stuff like this happens occasionally.
Thanks to the NYC pizzeria Lions & Tigers & Squares, the internet has renewed reason to scream at each other because of pizza. On Twitter, Insider highlighted one of the restaurant's pies, which substitutes tomato sauce with mustard. Predictably, everyone with nothing better to do decided to flood Insider's mentions, posting multiple pleas to call the cops on such an outrageous culinary travesty. 
You'll notice the Detroit-style pizza is made with spicy mustard, corned beef, and brick cheese, fashioning it after a Rueben sandwich. It's actually a pretty interesting concept, if you're a fan of the perennially-satisfying Reuben. Still, that didn't stop critics from crying out about it.
The pizza has obviously sparked a very contentious debate. But perhaps most importantly, the mustard pie has raised the specter of another polarizing condiment:
Really makes you think.
h/tTime
Sign up here for our daily Thrillist email and subscribe here for our YouTube channel to get your fix of the best in food/drink/fun.
 
Sam Blum is a News Staff Writer for Thrillist. He's also a martial arts and music nerd who appreciates a fine sandwich and cute dogs. Find his clips in The Guardian, Rolling Stone, The A.V. Club and Esquire. He's on Twitter @Blumnessmonster.