Seismic Waves Rippled Across the World and Scientists Can't Figure Out Why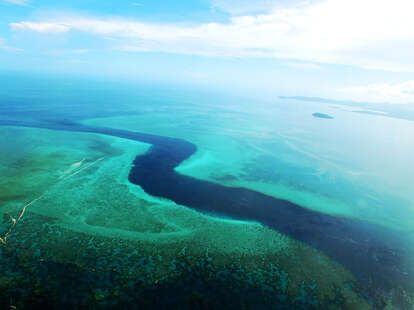 As if the government's recently released climate report hadn't given you enough to worry about (catastrophic heat waves, costly flooding, and dangerously poor air quality), mysterious seismic waves recently rippled across the entire world... and no one can figure out why.
The activity was recorded on November 11, just before 9:30 UT, according to a report by National Geographic. Seismic waves started roughly 15 miles off the shores of Mayotte, a French island situated between Africa and Madagascar, and buzzed across Africa and beyond.
The low-frequency seismic waves were detected as far as Chile, New Zealand, Canada, and Hawaii and scientists say they went on for about 20 minutes. So why didn't you hear about these earthquakes until just now? Well, probably because it seems they weren't felt by a single human in any of the places they reached.
In fact, just one person noticed something strange on the U.S. Geological Survey's real-time seismogram display. The discovery was actually made on Twitter by earthquake enthusiast (uhhh, what?) @matarikipax, who spotted suspicious zigzags on the recordings and shared photos that puzzled researchers around the world.
Scientists scrambled to find a cause for the seismic waves, speculating about possible meteor strikes, underwater volcano eruptions, and just about every other natural phenomenon you could dream up. If you were hoping this would be the part where we tell you they cracked the case and everything's OK, now would be a good time to stop. So far, nothing's checked out.
Goran Ekstrom, a seismologist at Columbia University specializing in unusual earthquakes, noted just how unique the worldwide activity is. "I don't think I've seen anything like it," he said, per the report. "It doesn't mean that, in the end, the cause of them is that exotic."
Ekstrom isn't the only seismologist scratching their head at the news of recent widespread waves. Stephen Hicks, a seismologist at the University of Southampton, explained that typically when an earthquake happens there's a starting point that takes the brunt of the quake, setting off a "wave train" of Primary waves (P-waves) and Secondary waves (S-waves), and Surface waves, according to National Geographic. The recent far-reaching quake, classified as monochromatic by science-savvy folks, was made up entirely of the latter with no preceding P or S waves.
Scientists believe the tremors had something to do with similar activity that's been plaguing Mayotte since May. The tiny nation, formed by volcanic activity, has experienced hundreds -- yes, hundreds -- of small earthquakes in that time period, most of which seem to originate about 31 miles offshore not far east of where the latest trembles started.
The bad news? They've yet to pinpoint an exact cause or say, definitively, whether this could happen again. The good news? All the earthquakes experienced in Mayotte have been small and appear to be getting smaller.
Sign up here for our daily Thrillist email and subscribe here for our YouTube channel to get your fix of the best in food/drink/fun.

Caitlyn Hitt is Daria IRL. Don't take our word for it -- find her on Twitter @nyltiaccc.