Somehow, humans have put a man on the moon, but have not yet invented a way to cut fingernails without shards exploding all over the room like an organic pipe bomb. Every carpet in America has a quarter of a thumbnail embedded in it, even if no one has ever cut nails in that exact room.
That's why the Nail Capsule is bound to succeed.
The recent Kickstarter project is simple in premise: a clear plastic tube with rubber caps on both ends, which are perforated to allow your finger and a clipper to enter, but preventing the nail shrapnel from exiting. As inventor Gerard O'Leary states on the Kickstarter page, the idea came to him "when [he] saw a chap on the bus cutting his nails with no regard for anyone else and thought to [himself] how unsightly and unhygienic."
Recommended Video
Smorgasburg WTC: Send Foodz w/ Timothy DeLaGhetto & David So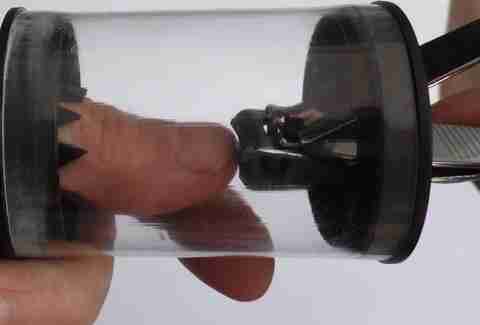 As of this article's publish time, the project has reached $840 of its $3,679 goal with 14 days left for funding. To back the Nail Capsule, $8 (€7) plus shipping will snag you one Nail Capsule and a pair of clippers; $16 (€14) will get you two; and $22 (€20) will get you three.
In the end, $8 is a small price to pay to free the floors of the world from free-edge landmines. And isn't that the true sign of progress?
H/t Gizmodo