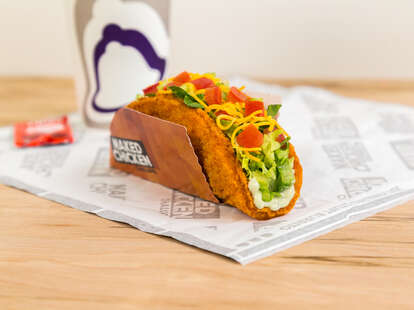 Courtesy Taco Bell
Courtesy Taco Bell
Let's all agree: if it's deemed a taco, we'll eat it. And Taco Bell has made billions of dollars on this theory, now embodied in the release of its newest creation: the Naked Chicken Chalupa.
Fresh out of the wacky taco vault (see Doritos Locos Taco, waffle taco, biscuit taco … need I go on?), the NCC replaces the standard tortilla shell with one made from crispy fried chicken, folded like a tortilla and filled with the classic Chalupa fillings. Currently available only in certain test markets like Lawrence, KS, it was up to me to figure out if this was the same naked taco T-Bell tried out last year. Here's what I found.
First glance
As far as I can tell, nothing covering the breaded, all-white chicken shell makes this taco "naked," aside from lacking real bread. But that makes it look awfully similar to KFC's Double Down sandwich. When you start using poultry as your bun (or tortilla, in this case) it's hard to avoid comparisons.
Inside, you'll find the taco fixings you'd expect -- lettuce, diced tomatoes and cheese -- hold the meat, because you've already got a meat "tortilla." They've topped it with avocado ranch, too, instead of sour cream you'd find on a normal Chalupa, which is a nice touch.
Eating it
As you'd expect from a taco-ish item with a shell made entirely of meat, the chicken shell steals the show. The item appears to be exactly like last year's release, in that it doesn't taste anything like a Chalupa -- really, it's chicken sandwich, hold the bun. The toppings get lost in shell, while in the standard, flatbread counterpart, the toppings do most of the flavor work. But hey! It's nice to know you're getting some of your daily recommended veggies.
The most surprising part of the NCC was a spicy kick that Taco Bell really doesn't advertise anywhere. I had yet to add my prized hot sauce and already felt some heat from the chicken. For the record, I still added the hot sauce. The avocado ranch paired nicely, as it added a cooling effect to the "taco."
The Verdict
I can't in good conscience call this taco. But if you like chicken, and don't expect your chalupas to taste like anything like a chalupa, then the NCC won't disappoint. And, I will say, if you're planning on springing for a spicy chicken sandwich at Wendy's, you might as well skip the carbs and grab the Naked Chicken Chalupa. It's -- dare I say -- a "healthier" alternative to that sandwich.
And any way you can fool yourself into thinking fast food is better for you by cutting carbs and upping your protein -- that's a win.