This Beer-Fueled Train Ride Takes You Through Wine Country While Drinking Craft Brews
Beer pairs well with a lot of activities: baseball games, beach lounging, backyard barbecues...sitting on your couch...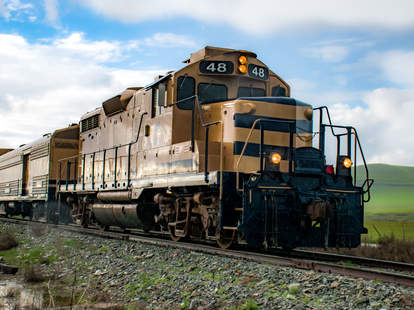 Courtesy Napa Valley Wine Train
Beer pairs well with a lot of activities: baseball games, beach lounging, backyard barbecues... sitting on your couch. Riding a train is something best done while sipping a cold one, too. Luckily, the folks who run a popular train route in wine country agree and have set up a special experience for passengers in the mood to kick back and ride the rails while sampling an assortment of top-notch craft brews.
Following the success of its inaugural "Hop Train" last year, the Napa Valley Wine Train is gearing up to launch a follow-up beer-fueled ride for summer 2019. This year's Wine Train takeover -- once again dubbed the Hop Train -- is being run by the team from Napa Palisades Beer Company, who'll host a special two-hour ride for beer-lovers every Monday night, starting June 3 and running through October. 
Once aboard, guests will be treated to a selection of snacks plus two free Napa Palisades pints of their choosing, like the Loco IPA, 1849 Gold Rush Red Ale, or the Little Loco Session IPA. As you cruise through wine country soaking up the scenic views from the luxe coaches (including an open-air car where you can get a panoramic look at the surrounding vineyards), there will also be a variety of musical acts providing on-board entertainment. Of course, if two beers doesn't seem like enough for you, you'll be able to buy more (or purchase wine or cocktails should you somehow not be in the mood for something sudsy).
Napa Palisades Beer Company
If you're interested and plan to be in or around Napa while it's happening, you can reserve tickets right now for $80 per person. Though even if you can't swing a visit before October, the Wine Train operates its regular rides year-round, and frequently organizes special events (including tequila-themed evenings and even murder mystery dinners).  
Then again, if you'd prefer a more BYOB experience, you could also just organize your own mini beer ride on Amtrak, which is currently running a big sale on 2-for-1 tickets.
Sign up here for our daily Thrillist email and subscribe here for our YouTube channel to get your fix of the best in food/drink/fun.