Trains may be among the best ways to travel, but the one thing they're undeniably better at than most other modes of transportation is helping set the scene for a suspenseful, murder-y story. Just ask Agatha Christie, or whoever wrote Snowpiercer and, like, hundreds of other books and movies where people are trying to kill people and/or not get killed while riding the rails. Now, that's something you can experience in real life (minus the death part), thanks to Napa Valley Wine Train, which just announced a series of wine-fueled speakeasy-themed murder mystery dinners.  
The Napa Valley Wine Train, which chugs through wine country pouring passengers wine, serving up gourmet meals, and occasionally celebrating boozy holidays just announced it'll be kicking off a series of speakeasy-themed Murder Mystery Tours later this month, and will run them through November.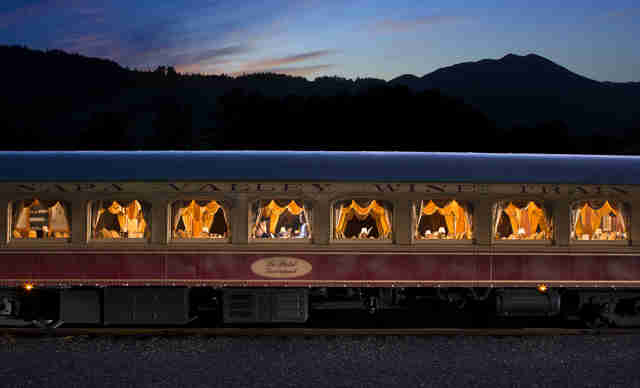 During each dinner, passengers will go "back in time to the 1920s to solve a murder on a three-hour journey" on the old-timey train while enjoying a multi-course gourmet meal. It's in wine country, after all, so there will also be plenty of vino flowing, which may help get you in the murder-solving spirit, or something like that.
Once aboard, passengers will take part in an experience set in the prohibition era, featuring 1920s mobsters, jealous lovers, a rival mafioso, and a pair of undercover federal agents, then work together to solve the crime by trading clues and information. And while period dress isn't required, it's highly encouraged you show up looking straight out of The Untouchables or Dick Tracy (tassel skirts, pinstripe suits, feather boas, fedoras, etc.). It couldn't hurt to also practice your best inquisitive furrowed brow reaction.
The locally sourced menu will offer a variety of appetizer, entree, and dessert options, and the train will be stocked with plenty of wine from a number of wineries you'll pass along the ride. 
If you plan to be in Napa sometime this year, you can scope out the full murder mystery dinner schedule and snag tickets for $216 apiece at the Wine Train site. 

Sign up here for our daily Thrillist email and subscribe here for our YouTube channel to get your fix of the best in food/drink/fun.