The Napa Valley Wine Train Is Doing a Murder Mystery Ride for Harry Potter Fans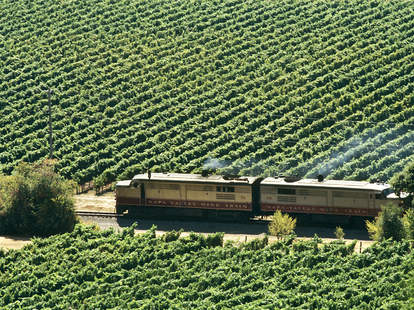 Hoberman Collection/Universal Images Group via Getty Images
You don't have to be an extra in a Hitchcock film to enjoy a train ride. You don't even have to be trying to get anywhere in particular. Like any John Hughes film, the Napa Valley Wine Train's day trips aren't about getting to the end but the friends, er, wines you meet along the way.
In recent years, the popular train has expanded its wine tour offerings to include beer-themed rides and murder mysteries that will make you feel like Poirot. The first trek with the Murder Mystery Company putting on a show happened in the spring of 2019. This year, they're expanding the offerings to include one that sounds absolutely perfect for Harry Potter fans, among other new murder mysteries.
The lineup of murder mystery trains are only available on select dates throughout the year, and the theme is going to change depending on when you hop aboard. Some of those themes include a '20s story about prohibition-era gangsters, a wedding-themed trip, and one that is called "Wizard and Witches" and was maybe called "Wizarding World" at one point, per Travel + Leisure. You'll also have the opportunity to get on the "Crime and Punishment" train, an Agatha Christie-themed murder mystery.
The experiences are described as "Real Life Theater" by the company. "The suspects will appear as 'real people' and not on-stage actors, and the mystery will occur as 'actual events' rather than a performance. You will be in a place where things will happen all around you, and you may not be able to see all of the clues. Be aware of your surroundings and feel free to question characters to deduce what really happened."
Each trip is going to cost somewhere between $230 and $290 per person. If you want to go, it's worth getting those tickets now. Some of the trips are already sold out. That includes the pseudo-Harry Potter experience ($290). The company has confirmed to Thrillist that it sold out fast and they've already added another of the "Witches and Wizards" events. It doesn't take a Sam Spade to deduce that the second one will probably sell out soon as well, with no promise that they'll add another if the second one sells out as well.
The three-hour evening trip will come with a three-course dinner crafted by executive chef Donald Young and a side of murder. You're also encouraged to dress according to the ride's theme. Here's the full schedule (and dress theme) for the 2020 season.
Crime and Punishment ("20's attire")
February 22, March 21, April 25, May 29, June 27, October 10, November 7 and 14
Midnight at the Masquerade ("Masquerade attire")
February 25
Death of a Gangster ("20's attire")
May 15, June 12, August 27
Totally 80's Totally Murder ("80's attire")
July 16
Dance With Death ("50's attire")
July 30
Now You See It, Now You Don't ("Elegant evening gowns and suits")
August 13
Till Death Do Us Part ("Wedding Attire. Wear your own wedding dress, bridesmaid dress, suit, etc.")
September 10 and 24
Wizards and Witches ("Witch hats and wizard robes are encouraged")
October 17 and 24
The Most Wonderful Crime of the Year ("Holiday or Christmas Sweater-themed attire")
December 5
h/t Food and Wine
Sign up here for our daily Thrillist email and subscribe here for our YouTube channel to get your fix of the best in food/drink/fun.