Napa Valley's Scenic Wine Train Is Now Doing a Special 'Day of the Dead' Ride
Courtesy of Napa Valley Wine Train
The only way to make a scenic train ride through the beautiful vistas of wine country better is to make it a scenic train ride through the beautiful vistas of wine country that involves stuffing your face with gourmet food, delicious cocktails, and fine vino. Though, as it turns out, the folks at the Napa Valley Wine Train have conceived of an even cooler way to spend your time on the rails soaking up the sights with its brand new Day of the Dead-themed "Spirit Train," which takes passengers through the area at dusk to celebrate the beloved Mexican holiday. 
The Wine Train takeover is the latest offering from the popular railway attraction, and is designed to bring to life the spirit of the ancient multi-day holiday. And if you've seen/sobbed through Pixar's excellent recent film Coco, then you already know what a colorful and joyous occasion El Dia de los Muertos is, during which people make altars to loved ones who've passed away, tell stories, and feast on delicious food and drink. The NVWT's Spirit Train will bring the essence of the holiday to the rails for a special three-hour trip on Saturday, October 27.
Courtesy of Napa Valley Wine Train
The ride will kick off with a wine and champagne reception at the station, with gourmet appetizers, Day of the Day-themed face-painting, and a photo booth. Then, passengers will board a luxury vintage train at dusk, where the party continues with even more food and booze, a DJ, and other unspecified "festivities" before returning to the station for a coffee hour.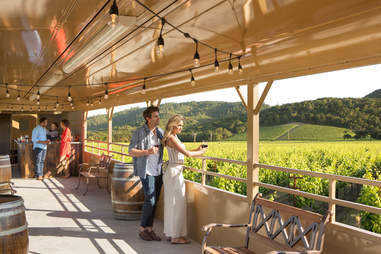 Courtesy of Napa Valley Wine Train
If this sounds like your sort of thing, you can still reserve tickets for about $150 per person (if you want to pay for VIP, those are $212). Though, if a ride on the Spirit Train isn't in the cards for you this year, don't sweat it. The Napa Valley Wine Train team is regularly throwing together themed rides, including another upcoming Tequila Train similar to the one it hosted for Cinco de Mayo.
Sign up here for our daily Thrillist email and subscribe here for our YouTube channel to get your fix of the best in food/drink/fun.