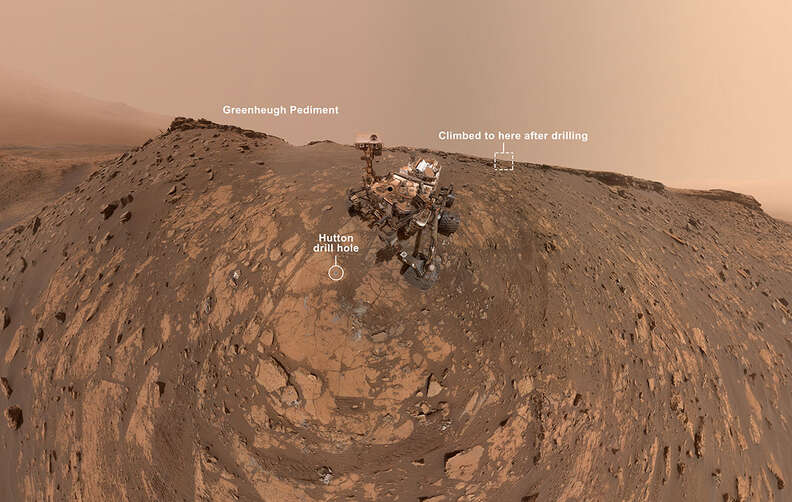 NASA's Curiosity Rover Takes Cute Selfie During Record-Setting Climb on Mars
Selfies are the cherry on top of any modern-day achievement. Graduate from college? Take a selfie. Get engaged? Selfie with the hand up. Embark on a record-setting climb on Mars to scale the steepest hill you--a rover-- will ever scale, thanks to a NASA employee controlling your motions from approximately 140.27 million miles away? A 360-degree panoramic selfie is certainly in order.
NASA's Curiosity rover is a robotic, car-sized vagabond that looks a bit like Wall-E's broad-shouldered older brother. It was designed for use in the Mars Science Laboratory mission, and its role currently is to explore the Gale crater, which scientists believe may have once contained the building blocks of life.
Curiosity has recently received a lot of attention for capturing the highest-resolution image of Mars' surface ever. But that's not all it's done this year--the rover also achieved a personal record, and we should all be very proud of it.
On February 26, according to a post on NASA's Mars exploration website, Curiosity scaled a rocky highland area of Mars known as the Greenheugh Pediment. The hill created a 31-degree tilt for the rover, which is just one degree less tilt than another rover, Opportunity, was able to achieve before retiring in 2019.
Before Curiosity reached the top, it captured 86 images to create a 360-degree panorama selfie. It finished the climb on March 6.
A representative from NASA told Thrillist that it will be some time before the next Curiosity release, but that drivers are currently navigating around the top of the pediment, seeing what's up on the top of the martian world.
Sign up here for our daily Thrillist email and subscribe here for our YouTube channel to get your fix of the best in food/drink/fun.