Here's the First Image Sent From NASA's New Mars InSight Lander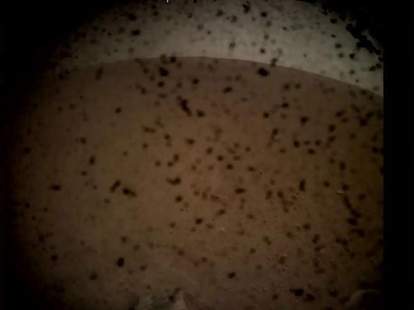 In case you haven't heard, we just touched down on Mars for the first time since 2012 on Monday, and even streamed the landing. As they say in the scientific community, that's super-cool, and now that we've landed, we've got brand new pictures of the Red Planet. 
These images aren't quite Insta-worthy yet, but the cameras currently have dust covers on them, and once those come off we'll have a clearer picture. Until then, count your blessings. Science is cool, remember?
The mission is called InSight (short for Interior Exploration using Seismic Investigations, Geodesy, and Heat Transport), and will last roughly two years, during which the lander will study Mars' seismology and internal heat to help us better understand how planets, including Earth, were formed. The mission launched all the way back on May 5, 2018 and landed around 3pm on November 26.
As we said, the plan isn't really about taking pictures of the planet's surface, but there are two cameras that help the craft get around. These are the Instrument Deployment Camera, which takes full-color images via a mounted arm, and the Instrument Context Camera, which is mounted on the front and takes pictures of the work area. That's the camera that gave you the image above.
Here's a version that's slightly cleaned up, via @JPMajor, "edited to remove the distracting debris from the lens cover and some barrel distortion. For aesthetic enjoyment only."
Update: NASA has released another image, this one from the Instrument Deployment Camera and apparently a selfie.
Sign up here for our daily Thrillist email and subscribe here for our YouTube channel to get your fix of the best in food/drink/fun.