Whenever life gets a little overwhelming, it's good to gain some perspective. Like, for instance, taking a moment to remember Earth is a teensy tiny blip compared to the other planets that dot our solar system. Fortunately, NASA just made that even easier to do just that by releasing stunning new photos of Jupiter that were recently captured by the Juno Spacecraft. 
Recommended Video
These Tacos Are Made for Dunking
Launched back in 2011 and in orbit around Jupiter since mid-2016, Juno's mission has been to do a series of flybys around the gas giant in an effort to better understand what the hell is going on down beneath the clouds of the largest planet in our solar system. In doing so, the spacecraft has been scanning the surface for clues about its atmosphere and origin, and also snapping huge black and white aerial photos. Those raw images are uploaded to a public database where anyone is free to tweak, colorize, and enhance them, which is exactly how this latest series of pics were produced. 
The shot shown above, which was released by NASA last week, was processed by "citizen scientists" Gerald Eichstädt and Seán Dora and features turbulent clouds in the planet's northern hemisphere, captured on December 16, 2017 from roughly 8,300 miles above. The duo has also processed a whole bunch of other images, providing a rare and mesmerizing look at the fifth planet from the sun, including its iconic "red spot," an enormous storm that measures as wide as the Earth itself. Below are some highlights.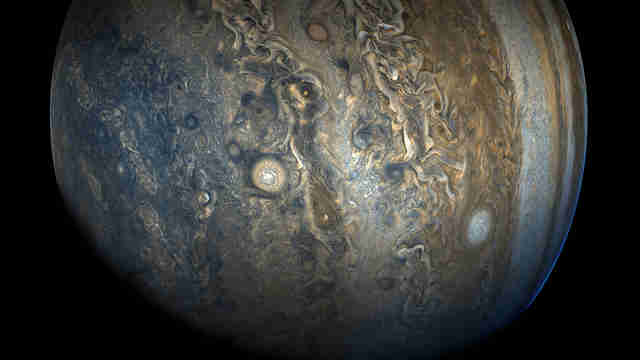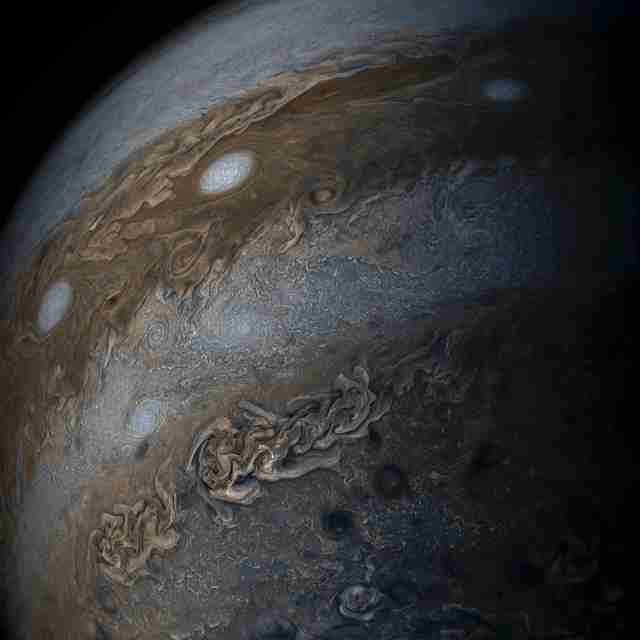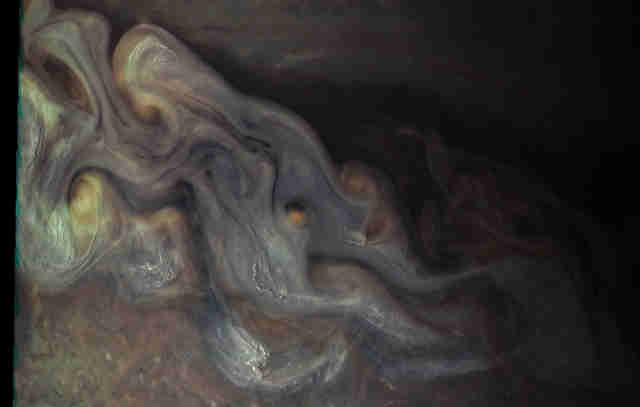 Although Juno was initially only expected to operate through July 2018, a tweak in its flyby plans that reduces radiation damage means it may be able to continue orbiting and collecting data for quite some time. And, hopefully, that means Eichstädt and Doran will keep churning out some of its best beauty shots. 
Sign up here for our daily Thrillist email and subscribe here for our YouTube channel to get your fix of the best in food/drink/fun.