Perseverance's First High-Res Image of Mars Shows Incredible Detail
The rover provides a panoramic view of its new home.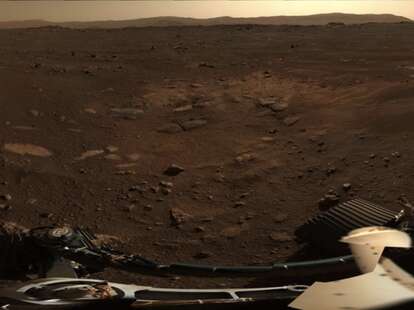 NASA/JPL-Caltech/MSSS/ASU
It's been about a week since Perseverance's February 18 landing on Mars, and it's sent back a stream of amazing visuals from its first picture after landing to the "first-of-its-kind" video of the actual landing.
On Wednesday, NASA released the first high-definition image from Perseverance. It's a look around its home in the Jezero Crater. The 360-degree panorama was taken on February 21 using the Mastcam-Z instrument on the rover's mast.
The Mastcam-Z, NASA says, is a dual-camera system that can zoom in on specific areas and take high-definition video. It can also grab panoramic color and 3D images. That will give scientists a lot to work with as the rover aids in the search for signs of ancient life on the red planet. It also means that we'll probably see more inspiring images from the Martian surface as Perseverance continues its mission.
This new image was "stitched" together from 142 images. It showcases "the crater rim and cliff face of an ancient river delta in the distance," NASA wrote in the announcement. The agency notes that the rover's cameras help the Perseverance team "assess the geologic history and atmospheric conditions of the Jezero Crater and will assist in identifying rocks and sediment worth of a closer look by the rover's other instruments." Part of the Mars 2020 mission is to collect rock samples that can be returned to Earth during a future mission.
"We're nestled right in a sweet spot, where you can see different features similar in many ways to features found by Spirit, Opportunity, and Curiosity at their landing sites," said Jim Bell of Arizona State University's School of Earth and Space Exploration, the instrument's principal investigator.
The images shared by NASA include a zoomed-in view of a formation to give a sense of how much detail the camera is able to capture. Another view (below) reveals the crater's rim.
The team behind the image and camera will hold a public question and answer session on Thursday, February 25. You can view that on NASA TV at 4 pm EST.
Sign up here for our daily Thrillist email and subscribe here for our YouTube channel to get your fix of the best in food/drink/fun.