You Can See an Incredibly Rare Comet in the Sky Right Now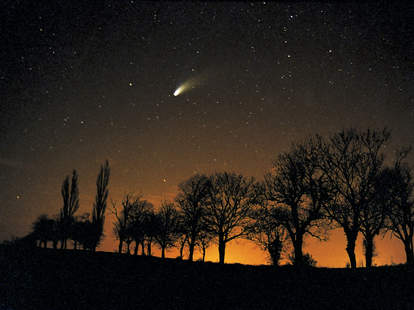 In recent weeks, some alarmist headlines have declared that Earth is overdue for a collision with a meteor or comet, ushering forth a cataclysmic event that ensures we all die. And according to NASA, this is kind of true!
Right now, a comet is hurtling toward Earth's orbit, but it isn't a death knell for our planet. Named C/2016 U1 NEOWISE, the comet is expected to offer a visual feast for anyone with a good pair of binoculars, as it will be visible in the southeastern sky before dawn during the first two weeks of 2017. Or, as Paul Chodas, NASA scientist at the Jet Propulsion in Pasadena, California, tells it: "[C/2016 U1 NEOWISE] has a good chance of becoming visible through a good pair of binoculars, although we can't be sure because a comet's brightness is notoriously unpredictable."
Even if the space object proves elusive, it's worth searching for in the sky, because it probably won't be visible again for thousands of years. As NASA explains in a statement: C/2016 U1 NEOWISE "will reach its closest point to the sun, inside the orbit of Mercury, on Jan. 14, before heading back out to the outer reaches of the solar system for an orbit lasting thousands of years."
People are already sharing snapshots of the comet on Twitter, which you can see below, courtesy of Mic:
The comet was discovered by NASA's NEOWISE mission, which aims to identify space objects that could "pose an impact hazard to Earth" -- like the asteroid from that one Morgan Freeman movie.
This particular comet is totally benign, and offers no existential threat at all, even if it you can see it racing across the sky.
Sign up here for our daily Thrillist email, and get your fix of the best in food/drink/fun.
Sam Blum is a News Staff Writer for Thrillist. He's also a martial arts and music nerd who appreciates a fine sandwich and cute dogs. Find his clips in The Guardian, Rolling Stone, The A.V. Club and Vice. He's on Twitter @Blumnessmonster.