NASA & SpaceX's Historic Rocket Launch Happens Saturday. Here's What You Need to Know.
SpaceX and NASA will conduct the first orbital crewed launch from the US since 2011 on May 30.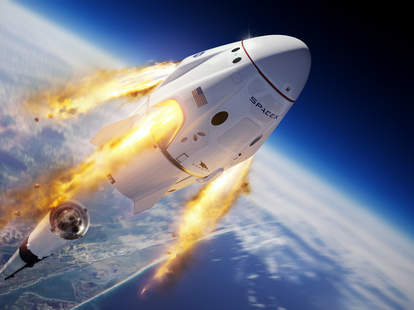 UPDATE:
SpaceX and NASA have officially postponed the launch on Wednesday, May 27 due to inclement weather.
Here's what happens next
.
It's been almost a decade since a rocket transported astronauts to space from NASA's famous launch pad in Florida. But the May 30 launch of the SpaceX Crew Dragon is finally here. (Though, it was delayed due to inclement weather on the original launch date of May 27.)
Anytime people are talking about space it's easy to be hyperbolic because space travel is better than a million candy bars. Nonetheless, this launch is historic, and it genuinely is the start of a new era of space travel in the United States. For the first time, a private company, SpaceX, is taking astronauts to the International Space Station from US soil. For better or worse, it's a brave new world for the country and NASA.
"Our country has been through a lot. But this is a unique moment where all of America can take a moment and look at our country do something stunning again," NASA Administrator Jim Bridenstine said during a May 26 news conference, per ABC 7. "This is a unique opportunity to bring all of America together in one moment in time and say, 'Look at how bright the future is.' That's what this launch is all about."
The launch is scheduled to take place 3:22pm EST on May 30, weather permitting. Here's everything you want to know about it and maybe even a little more than that at times. Those extra tidbits are going to be great for going full Colin Robinson energy vampire on your roommate.
Who is launching the rocket?
The launch is a test mission called Demo-2 and is taking place through a public-private partnership between Elon Musk's SpaceX and NASA. In particular, SpaceX was given funding through NASA's Commercial Crew Program, which started in 2010 to foster public-private partnerships for space exploration.

This is one of three projects SpaceX has going with NASA. It has been running cargo missions to the International Space Station (ISS). The company was also recently revealed to be one of three companies getting funding to develop a lunar landing system for the Artemis program that aims to land two astronauts near the moon's southern pole in 2024.
Who are the astronauts on Crew Dragon?
The Demo-2 test flight will be crewed by NASA astronauts Bob Behnken and Doug Hurley. Behnken is a NASA astronaut and US Air Force Colonel. This is his third trip to space. Hurley was a fighter pilot and test pilot in the U.S. Marine Corps before joining NASA in 2000. He's a veteran of two space flights.
From where is the rocket launching?
The mission will take off from the Kennedy Space Center in Cape Canaveral, Florida. The Falcon 9 rocket will blast off from Launch Pad 39A, where the last space shuttle mission took off in 2011.
Courtesy of SpaceX
Is the Falcon 9 rocket reusable?
SpaceX designed the Falcon 9 rocket to be partially reusable, cutting down on operating costs for the company.

However, SpaceX is already developing its next rocket, the SpaceX Starship, which is intended to be fully reusable. The goal is to use Starship for missions to the Moon, Mars, "and beyond."
How long will the astronauts be on the ISS?
There isn't a hard answer to this one. There are many variables in play that will determine the length of Behnken and Hurley's stay on the ISS. NASA has said that the Crew Dragon crew will spend somewhere between one and four months aboard the Space Station.

"There is a lot of flexibility built into the backend of this mission, but that's intentional," Bridenstine said, per Space.com. "I want to reiterate, it is a test flight. The goal is to get them to the International Space Station, test the systems, and get them home."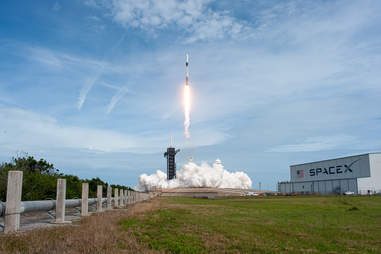 Courtesy of NASA/Tony Gray
When is the next crewed mission?
The first full crewed mission between SpaceX and NASA was already planned for later this year. While things still need to go well with Demo-2, Bridenstine announced on May 26 that the target is an August 30 launch for a mission called Crew-1.
What was the last orbital crewed flight to launch from the US?
The space shuttle program was retired in 2011 after Atlantis landed on July 21, 2011. Crew Dragon is one of two successors to the shuttle program. It's joined by Boeing's CST-100 Starliner spacecraft, which has not yet launched a crewed mission. Both spacecraft were developed with NASA funding through the Commercial Crew Program.
How have US astronauts been getting to the ISS?
Since the space shuttle program was shuttered, NASA has been sending its astronauts to the ISS on the Russian Soyuz spacecraft, which launches from the Baikonur Cosmodrome in Kazakhstan.

In fact, NASA has a seat booked for a flight to the Space Station after the Crew Dragon launch. When it purchased the $90 million seat on Soyuz, NASA said it was purchased to "ensure the agency keeps its commitment for safe operations via a continuous U.S. presence" on the ISS.
What is Launch America?
On the live stream of the launch, you'll see the Launch America logo. This is the title under which the launch is taking place. It's really just the branding NASA and SpaceX have put together for the mission, so you're going to see the Launch America logo and hashtag in a lot of places prior to Wednesday's flight.
What happens if there's bad weather?
The mission depends on decent weather, otherwise, it will have to be delayed for the safety of the astronauts. That's what happened during the original launch attempt on May 27. The weather needs to cooperate at the launch pad, but also elsewhere. If the astronauts need to eject during the launch, the weather where they'd land in the ocean needs to be such that a boat could rescue them.
Sign up here for our daily Thrillist email and subscribe here for our YouTube channel to get your fix of the best in food/drink/fun.