NASA's SpaceX Crew Is Heading Back to Earth August 2
Bob Behnken and Doug Hurley are set to undock from the ISS August 1.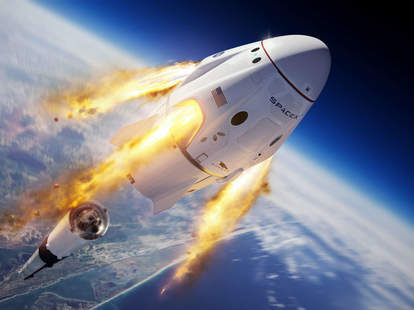 In May, NASA astronauts Bob Behnken and Doug Hurley took off for the International Space Station in the first launch from US soil in nearly a decade. And now, two months later, the SpaceX's Crew Dragon is gearing up for its new trip back.
The flight is slated to undock from the ISS around 8pm ET on August 1. The SpaceX will then splash down in the Atlantic Ocean on August 2 around 3pm, NASA's Johnson Space Center public affairs officer Kyle Herring told CNBC. However, according to Herring, that departure time is "a bit of a moving target." Much like the original takeoff, it is entirely dependent on favorable weather.
Because this was considered a test flight, referred to as Demo-2, NASA will analyze the data from it before moving forward with planned, routine roundtrip flights.
Despite an initial delay on launch due to poor weather conditions, the SpaceX took off on its backup date of Saturday, May 30 at 3:21pm. And because we're still very much living through a global pandemic, NASA ensured a number of safety procedures were in place for the event.
Employees at the Kennedy Space Center were required to wear face masks and routinely sanitize while the astronauts themselves completed a two-week quarantine prior to take off.
Sign up here for our daily Thrillist email and subscribe here for our YouTube channel to get your fix of the best in food/drink/fun.
Megan Schaltegger is a staff writer at Thrillist.