You Have Another Chance to Watch a Spacewalk at the Space Station on Thursday
Two cosmonauts will travel outside the International Space Station this week, and NASA is streaming it.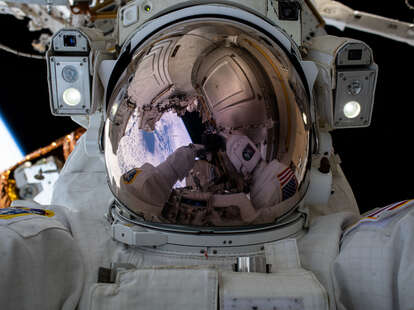 While we all sit around filing our individual versions of TPS reports on the planet's surface, there are people who are working beyond our planet's atmosphere. Only a few people are lucky enough to have space be their workplace -- the commute is rough -- but you can get a glimpse at what it's like to work aboard an orbiting lab this week.
Two Russian Cosmonauts will leave the relative safety of the International Space Station on Thursday, September 9 to conduct the second of two spacewalks scheduled to take place over the course of a week. The work will be streamed on NASA TV so you can get a close look at what it'd be like to have your 9-to-5 (or your 24-7, really) be out in space.
Oleg Novitsky and Pyotr Dubrov will be doing their second spacewalk this month to begin outfitting the Nauka Multipurpose Laboratory Module. "During the spacewalks," NASA says, "the cosmonauts will install handrails on Nauka and connect power, ethernet, and data cables between the recently arrived module and the Zvezda service module."
The walk is scheduled to start at 11 am ET on September 9. You'll be able to watch on NASA TV, NASA's website, or the NASA app. Also, you can just hit play on the player above. No need to rush to the stream at 11, though. The spacewalk is scheduled to last for about five hours.