This Beautiful Map Shows the Moon's Surface in Unprecedented Detail
The United States Geological Survey (USGS) has released the first complete map of the Moon.
Sure, the surface of Mars is pretty cool, but let's not turn a blind eye to the astronomical body who's been there for us all along. The Moon is not just a white dot that waxes and wanes; its surface is a diverse landscape of craters and plains worth exploring and admiring. And now, thanks to The United States Geological Survey (USGS), we can appreciate our old moon friend in full. 
The USGS, aided by NASA and the Lunar Planetary Institute, has just mapped and classified the entire surface of the moon. The Survey released a photo on April 20, depicting two sides of the moon adorned in a sort of springtime palette of splatter paint. The map, which scientists call the "Unified Geologic Map of the Moon," was created to aid in future exploration, but can also serve as a teaching tool for students and a neat thing for the rest of us to share on Facebook. 
NASA/GSFC/USGS
 "This map is a culmination of a decades-long project," said Corey Fortezzo, USGS geologist and lead author, in a press release. "It provides vital information for new scientific studies by connecting the exploration of specific sites on the moon with the rest of the lunar surface."
Here you're seeing the most comprehensive map to date; The scale of the map is 1:5,000,000, and was created with maps from the Apollo era and recent satellite mission data (remember that "Earthrise" from the Lunar Reconnaissance Orbiter?).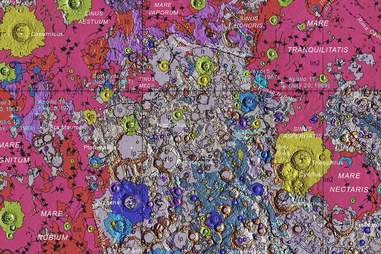 NASA/GSFC/USGS
Essentially, the researchers took six 1:5,000,000-scape maps that were released in 2013 and compared old data with the new to create a more accurate picture. They also established guidelines for features to, basically, create a better map key. The features mapped include crater rim crests, buried crater rim crests, faults, fissures, scarps, garbens, troughs, and a bunch of other landforms that sound like objects at Hogwarts. 
Sign up here for our daily Thrillist email and subscribe here for our YouTube channel to get your fix of the best in food/drink/fun.