If you want to add cheese to your free burger, September 18th is National Cheeseburger Day.

Its origins remain surprisingly hazy, but the hamburger has been omnipresent throughout the life of anyone capable of reading this sentence. In the United States, it's basically celebrated daily as the national dish. Some reports put the annual total of hamburgers eaten by Americans in the neighborhood of 50 billion. 50 billion. That's an average of three hamburgers per person every week. We probably don't need a dedicated day to celebrate the burger. 
Yet, there's a day for that. Of course there is.
May 28 is National Burger Day, and it falls on Memorial Day this year, which is kind of perfect. If you're not celebrating on a grill out in a park, there are many restaurants offering deals to help you celebrate. (If you're looking for a deal instead of hunting down one of the best burgers in the US.)
Recommended Video
UFC's Conor McGregor's Guide to Celebrating St. Patrick's Day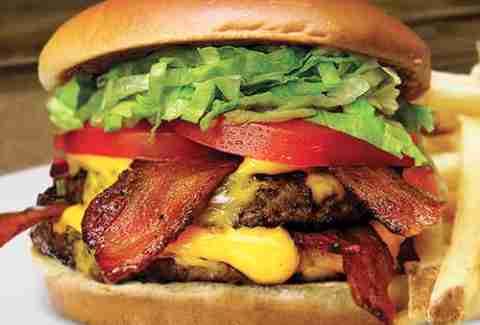 Free Food for National Burger Day
BurgerFi
The deal: If you take BurgerFi's personality test, you get a coupon for free fries with the purchase of any burger. 
When: Through May 31
Baskin-Robbins
The deal: Download the Baskin-Robbins app for the first time and get a free scoop. If you aren't downloading for the first time you can still get $1 off any sundae, medium milkshake, or fresh-packed ice cream. 
When: May 13 - May 31
Burger Deals for National Burger Day
Yard House
The deal: The classic combination of burgers and beers is on tap at Yard House where you can get half-off classic sliders during happy hour. That includes vegan burger options. You can also partake in $2 off beer, wine, and cocktails during happy hour.
When: May 28
Wayback Burgers
The deal: On May 28, pick up a classic burger (which has two patties) for $5.28. See? Eh? See what they did there?
When: May 28
Wendy's
The deal: Download the Wendy's app and you'll get a coupon for a half-price Baconator. 
When: Ongoing
Jack in the Box
The deal: Get $1 off an ultimate cheeseburger with this coupon, as highlighted by Offers.com.
When: Through June 3
Hwy 55 Burgers, Shakes & Fries
The deal: If you download the My Hwy 55 app, you'll get a promo to grab a burger combo for half off.
When: May 28
Beef 'O' Brady's
The deal: Grab a Build Your Own Burger with fries for $5.99.
When: May 28
Snuffer's
The deal: The Texas chain is dishing up $5 classic burgers and cheeseburgers in honor of the holiday America celebrates every day that ends in "day."
When: May 25 - May 28
Fat Burger
The deal: Fat Burger is offering free delivery through Postmates for burger lovers across Los Angeles. 
When: May 22 - May 28
Grassfed Farm Burger
The deal: Drop in and get the No. 1 (grass-fed beef, white cheddar, caramelized onions, and FB sauce) for just $5, which is $3-5 off depending on the location. 
When: May 28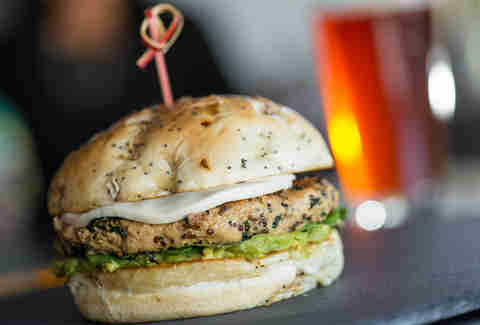 Other Food Deals on Memorial Day
Hooters
The deal: Veterans and active-duty military can eat for free at Hooters on Memorial Day with the purchase of a drink. The menu may vary by location, but at most locations, you can take your pick from traditional wings, smoked wings, boneless wings, Buffalo chicken salad, Buffalo chicken sandwich, or a Hooters burger.
When: May 28
Twin Peaks 
The deal: Active and retired military personnel can pick up a complimentary menu item at any Twin Peaks restaurant for dine-in. Available menu items include Philly cheesesteak, cheeseburger, buffalo chicken salad, and more. 
When: May 28
99 Restaurant & Pub
The deal: 99 has a buy a meal and get a free entrée from the "9 Real Size Entrées" deal for vets and active-duty military. 
When: May 28
Fogo de Chao
The deal: Vets and active-duty personnel get 50% off their meal and 10% off for up to three guests dining with them.
When: May 28
Applebee's
The deal: Applebee's is offering $2 Dos Equis all month long.
When: Through May 31
Lamar's Donuts
The deal: As Offers.com points out, US military personnel get a free small coffee or soft drink and a free donut for Memorial Day. 
When: May 28
Coolhaus
The deal: Take a buck off all cones and ice cream sandwiches purchased in-store. 
When: May 28
Z'Tejas
The deal: Both of Z'Tejas Austin locations are offering 50% off enchiladas or chile con queso all day long. 
When: May 28
Walgreens
The deal: Military personnel with a valid ID and a Walgreens Balance Rewards card get 20% off non-sale items. The deal is good for vets, active military, and their families. 
When: May 28
Brio Tuscan Grille and Bravo Cucina
The deal: When dining in at Brio or Bravo, you can indulge in a half-price bottle of wine. Every bottle up to $75 is part of the sale all day long. 
When: May 25 - 28
Boston Market
The deal: This coupon will get you a whole rotisseries chicken, half-rack of ribs, four sides, and four cornbreads for $29.99.
When: May 28
Taco Cabana
The deal: Top off your meal with a $3 margarita. They're usually $5.75.
When: May 28
Wine.com
The deal: Take 10% off your with the code "THRILLWINE."
When: May 25 - May 31
Sign up here for our daily Thrillist email and subscribe here for our YouTube channel to get your fix of the best in food/drink/fun.