Everywhere You Can Get Free & Cheap Food Today for National Burrito Day
Here's how to avoid April Fool's Day and celebrate the far more important holiday.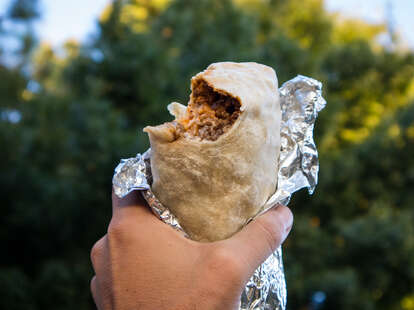 There are so many food holidays out there. They're all welcome to do whatever it is that they do, but there are some that are created slightly above the others. BLTs and egg salad sandwiches are fine, but they just can't compete with burritos.
On April 1, we celebrate burritos. (If this is a long April Fool's Day joke, we'll be very, very upset.) It's National Burrito Day. You don't need me to explain any further. The day is called National Burrito Day. You know what you need to do. To help you cross the finish line on this very important day, we've dug up the best deals you'll find at restaurants across the US. You're going to find some sweet deals at Moe's Southwest Grill, Taco John's, and tons of other places.
Here are the best deals you'll find on National Burrito Day.
Free Burritos on National Burrito Day
Chipotle
The deal: The chain is giving out 10,000 free burritos through an online game. Go to the link here to play and (maybe) get a free lunch.
When: April 1
Del Taco
The deal: If you buy an Epic Burrito through the Del Taco app, you can get a second one for free.
When: April 1
Burrito Deals on National Burrito Day
Moe's Southwest Grill
The deal: Moe's is offering $5 burritos and bowls all day through the Moe's app or in-store.
When: April 1
Taco John's
The deal: Grab a Boss Burrito or a Boss Bowl for just $5.
When: April 1
Grubhub
The deal: The delivery service is offering $7 off an order of at least $20 from a whole lot of burrito hot spots on National Burrito Day. You can get the deal at Freebirds World Burrito, Bubbakoo's, Jackass Burrito, Willy's Mexicana, Hot Head Burrito, Chronic Tacos, Savage Burrito, Costa Vida, Barberitos, El Vez, El Rey, Cafe Rio, Bad Ass Breakfast Burritos, Freshii, Taco Del Mar, Rosalita's Tacos, Hacienda Colorado, and Tijuana Flats.
When: April 1
Abuelo's
The deal: Take 50% off the Durango Burrito for National Burrito Day. Though, you have to place the order through the Abuelo's mobile app.
When: April 1
Miguel's Jr.
The deal: Grab the Bean, Rice & Cheese Burrito or the Bean & Cheese Burrito for $1.99 on National Burrito Day.
When: April 1
Miguel's California Mexican Cocina
The deal: Get a Pop's Burrito or a Carne Asada Burrito for $8 with an option to tack on a House Margarita for $3.
When: April 1
Rubio's Coastal Grill
The deal: You can trim $2 off any burrito in honor of National Burrito Day. Plus, Rubio's will donate a meal to Feeding San Diego for every burrito purchase on March 31 and April 1. Just order from the Rubio's website or mobile app while using the code "MKTG1068."
When: March 31 - April 1
Taco John's
The deal: The launch of its new value menu includes the option to grab a free Chicken, Bacon Guacamole Street Taco when you order any Pepsi product through the Taco John's app.
When: Through April 5
Tocaya Organica
The deal: The California and Arizona-based chain is offering $2 off all burritos at all 17 locations for National Burrito Day. Use the code "BURRITODAY" on the Tocaya site or app, as well as on Postmates and Uber Eats.
When: April 1
Maverik
The deal: The roadside pitstop is offering $1 off a BonFire Burrito. Additionally, as long as you're stopping by check the app if you're a Maverik loyalty member because 5,000 people are getting a free burrito dropped into their app.
When: April 1
Local Burrito Deals on National Burrito Day
Bodega Taqueria y Tequila - South Beach & Fort Lauderdale, Florida
The deal: Both locations are offering a buy-one-get-one-free deal on its Classico Burritos.
When: April 1
Junior's Restaurant - Brooklyn, New York
The deal: Fine. It's not burritos, but it's hard to argue with this one. You can snag a cupcake-sized version of the shop's beloved cheesecake if you flash your COVID-19 vaccination record card at the Flatbush Ave. location.
When: Through May 31
Other Food Deals on National Burrito Day
The Cheesecake Factory
The deal: Take 20% off your entire order when you order through the chain's site for pickup. Use the code "NOJOKE," which is helping to drive how the fact that one-day discounts on April 1 are easily mistaken for a joke.
When: April 1
Steak 'n Shake
The deal: Everyone -- yes, that includes you -- is getting a free order of fries at Steak 'n Shake. You'll have to go through the drive-thru, but there's no minimum order. It's open to anyone, at any time.
When: Ongoing
Buffalo Wild Wings
The deal: If a March Madness game goes into overtime, you can score six free boneless wings. You just have to place an online order within 30 minutes of the game finishing or check into your local BWW through the Blazin' Rewards app. Once you've done that, you'll get free wings in your account the following day.
When: Through April 5
Blaze Pizza
The deal: Every year, Blaze lets pizza lovers grab a customized 11-inch pizza with unlimited toppings for $3.14 on Pi Day. This year, you'll be able to do that for about a month, either in-restaurant or online. You'll find the offer in the Blaze app. If you're not a member, sign up before March 14.
When: Through April 12
Boston Market
The deal: The rotisserie chain is offering free kid meals. No purchase is required at all. Kids 12 and under can just grab a free one.
When: For just a little while
Taco Cabana
The deal: There are a few deals you can snag at Taco Cabana right now. Get two Nutella empanadas for $2.99 (or a dozen for $14.99), $2 margaritas, or a gallon of margaritas to go for $34.99.
When: Ongoing
Quiznos
The deal: Get four meals for $29.99. The family meal comes with four 8-inch subs, four bags of chips, and four cookies. Use the very memorable code "8026."
When: Ongoing
Grimaldi's
The deal: There's a new $25 meal deal that you can get for carryout. It comes with an 18-inch traditional cheese pizza, a small house or Caesar salad, and your choice of a slice of cheesecake or two mini cannolis. Unfortunately, it's not available at locations in New York, New Jersey, or Connecticut.
When: Ongoing
Taco Cabana
The deal: If you work in a restaurant, hotel, food service industry, grocery store, big-box store, or drugstore, you can get 50% off your order when you purchase while wearing a uniform or show an ID.
When: Ongoing
Friendly's
The deal: Friendly's is bringing back its Fan Favorite meals. Grab one -- the Heinz 57 Burger, Vermonter Burger, or the Honey SuperMelt -- with a sundae for $11.99.
When: Through June 6
Steak 'n Shake
The deal: Every weekday features a happy hour where you can snag half-price drinks and shakes.
When: Monday through Friday, 2-5 pm
Buffalo Wild Wings
The deal: You can get BOGO boneless wings on any size B-Dubs order every Thursday. The deal is available for dine-in at all sports bar locations and is available for takeout at select locations.
When: Ongoing, every Thursday
Rusty Bucket
The deal: There's a March Madness meal bundle that feeds 2-4 for $50. You'll get a Cheese Blanket Nacho, a pizza, an order of wings, and a bucket of beer. (Add $10 if you want those beers to be any kind of craft beer.)
When: Through April 5
GoPuff
The deal: Get a free Smirnoff Ice with any alcohol purchase over $15. They're setting you up for April Fool's Day fun.
When: April 1
Jinya Ramen Bar
The deal: Get a $0 delivery fee through Doordash as long as you hit the $20 order minimum.
When: Through April 4
Pizza Inn
The deal: Get a large two-topping pizza for $9.99 or a large three-topping pizza (or specialty pizza) and a medium Chocolate Chip Pizzert for $17.99.
When: Through May 1
Want More Food Deals?
Here's our huuuuuuuge running list of all the free food you can get right now, as well as the best pizza deals, reward programs, birthday freebies, gift card offers, deals on food for kids, food delivery offers, and alcohol delivery deals you'll find. If you want a little more than, say a free taco, we also have you covered with a long list of meals you can get at fast food chains under $5. You're welcome.
Additionally, we've put together a list of places offering free food to healthcare workers and first responders during the COVID-19 outbreak.