Cinnabon's Unleashing a Cookie-Cinnamon Roll Mashup for National Cinnamon Roll Day
October 4 may seem like a regular old Friday. But it also happens to be National Cinnamon Roll Day, a food-holiday everyone should celebrate because cinnamon rolls are the ultimate, frosted breakfast treats.
To celebrate the occasion, Cinnabon is unleashing a cinnamon roll-cookie hybrid called Cookie BonBites, the mall/airport food court-based chain announced on Monday. The decadent recipe calls for miniature cinnamon rolls baked right into the gooey shells of chocolate chip cookies. How they manage to make them is beyond us, but as you can see (check out the photos above and below), there are clearly little cinnamon rolls inside of the cookie. Try not to drool too much.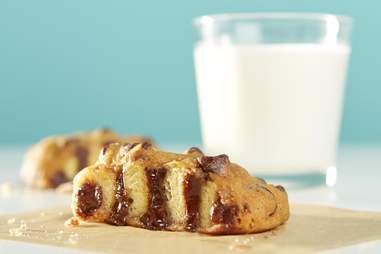 Courtesy of Cinnabon
It's not the first time the cinnamon roll slinger launched these sugary treats; Cookie BonBites first debuted in 2017 for a single day and sold out immediately. Now, the Cookie BonBites are back again -- but only while supplies last, according to the company.
The Cookie BonBites are available nationwide and retail at $2.99 for a single cookie, or $9.99 for a pack of six. If you want to nab one of these remixed cookie-cinnamon rolls, you better hurry, because they'll undoubtedly sell out.
Sign up here for our daily Thrillist email and subscribe here for our YouTube channel to get your fix of the best in food/drink/fun.
Kat Thompson is a staff writer at Thrillist. Follow her on Twitter @katthompsonn.