National Donut Day is today -- Friday, June 1. That means a truckload of free donuts are available, and you could subsist for an entire day on nothing but delicious sugary dough rings.
National Donut Day was founded in 1938 to honor the contributions of WWI's Donut Lassies. The volunteers from the Salvation Army were there to provide religious services, some music, and a treat or two. But one group of volunteers had a novel idea. They used the limited resources available to make fresh donuts for the soldiers on the frontlines to give them a small taste of home.
"[Those volunteers] met a group of soldiers from the American First Division," says Doran Cart, senior curator at the National WWI Museum and Memorial in Kansas City. "They really wanted to give the soldiers something that was homemade and not just candy or cigarettes or things like that. So, they scrounged up some of the fixings, which were pretty simple at that time."
Here's our running list of popular chains across the country where you can pick up a free, warm donut of your own:
Recommended Video
Check out These Top 5 Secret Menu Items You Can Find at Disney Theme Parks
Free Donuts for National Donut Day
Krispy Kreme
The deal: Krispy Kreme is rolling out the red carpet. Everyone gets a free donut -- any donut on the menu. No purchase necessary. Just stop in and eat a donut.
When: June 1
Dunkin' Donuts
The deal: Grab a free classic donut of your choice with the purchase of any beverage. At least, you can do that until they run out of donuts. But Donuts is the name, so they'll probably have quite a few. Plus, the first 10,000 people to drop the code "DUNKINDONUTS18" into their Lyft app will get a free ride to their local Dunkin' (up to $10).
When: June 1
Walmart
The deal: Walmart is giving away 1.2 million donuts on Friday. Every location in the US will have free full-sized glazed donuts. 
When: June 1
Papa John's
The deal: The pizza hub is launching warm donut holes, and you can try them before they officially launch on June 2. Get a free order of the donut holes with any online pizza purchase on National Donut Day.
When: June 1
Cumberland Farms
The deal: Buy any "dispensed beverage" between 5am and 10am, and you'll get a free donut. Not a bad way to start the morning as you head somewhere else to pick up yet another free donut.
When: June 1, 5am - 10am
Shiply Do-Nuts
The deal: Treat yourself to a free glazed donut with any purchase at Shipley.
When: June 1
Lamar's Donuts
The deal: Bring in this coupon and get a free donut.
When: June 1
Edible Arrangements
The deal: You might think of fruit arranged into a flower bouquet when you think of Edible, but it's getting in on the Donut Day party as well. Edible Donuts are fresh apples, cut like a donut, and dipped in chocolate. Sound weird? Decide for yourself, because Edible is giving away free donuts at its stores around the country.
When: June 1
Stan's Donuts & Coffee
The deal: The legendary donut shop is really getting into the Donut Day spirit. At midnight, the first 100 visitors to the Wicker Park location will get a half-dozen glazed donuts for free. Then, starting at 6:30am, all nine Chicago-area locations will dole out a free glazed donut with every purchase.
When: June 1
Honey Dew Donuts
The deal: Get yourself a medium beverage or large and Honey Dew will gift you a free s'more donut topped with mini marshmallows and graham cracker bears.
When: June 1
Duck Donuts
The deal: Drop by and get a free classic donut. No purchase necessary. Additionally, you can grab a buy-one-get-one-free coupon that you can use through June 17.
When: June 1
Fractured Prune Doughnuts
The deal: Participating locations are giving out a free "OC Sand" donut.
When: June 1
Doughnut Plant
The deal: The New York chain is opening a new spot in Grand Central Terminal. In honor of the opening, each location will give out a free mini donut with every purchase.
When: June 1
Kwik Trip
The deal: Every Kwik Rewards members gets a free Glazer Donut.
When: June 1
Graeter's Ice Cream
The deal: Get a free donut with any coffee purchase at this ice cream shop chain's Cincinnati bakery locations. 
When: June 1
Omni Dallas
The deal: The hotel will be offering a complimentary donut wall during breakfast and lunch at Texas Spice.
When: June 1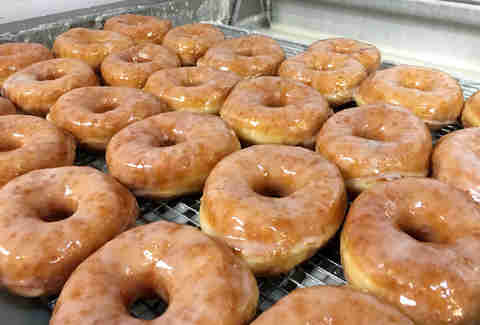 Deals for National Donut Day
Tim Hortons
The deal: Five Tim Hortons restaurants across Buffalo, Columbus, and Detroit will have 24K gold-covered Timbits donuts. The first guest of the day that asks for the "Gold Timbits" will win free donuts for a year.
When: June 1
The Donut Experiment
The deal: Order a dozen donuts, and they'll take half off the next dozen.
When: June 1
Winn-Dixie
The deal: Take 50% off doughnuts all day. Additionally, through 11pm ET Friday, you can enter to win free donuts for a year on its Facebook page.
When: June 1
Other Donut Madness
Burger King
The deal: For one day, you can pick up a "Whopper Donut." It's really just a Whopper with the center cut out. But don't worry, you aren't getting less burger. The center "becomes" a mini slider that will come with your Whopper Donut. 
When: June 1
Lift Bridge Brewery
The deal: The Minnesota-based brewery has turned its popular State Fair Mini Donut Beer into a soda. You can now pick up Mini Donut Cream Soda at the Stillwater taproom or grocery stores around the region. 
When: Ongoing
Entenmann's
The deal: Entenmann's is offering $5,000 and a free year of donuts to whoever applies and becomes the company's Chief Donut Officer. 
When: Apply by June 30
More National Donut Day Deals?
If you know of donut deals or giveaways we missed, let us know and we'll add 'em here. Send us an email (news@thrillist.com) with all the info or a link to the deal. Thanks and, as always, celebrate responsibly! 
Sign up here for our daily Thrillist email and subscribe here for our YouTube channel to get your fix of the best in food/drink/fun.