Everywhere You Can Get Free & Cheap Fries for National French Fries Day
It's time to celebrate deep-fried taters.
Courtesy of Brent Hofacker/Shutterstock
French Fries are the ultimate supporting cast for a plate. They make everything around them better. They're good on their own. They even elevate the extras of the food world like mayo or ketchup. They are to lunch what Stephen Tobolowsky is to TV shows.
So it absolutely makes sense that July 13 is National Stephen Tobol— I mean, National French Fry Day. The food holiday means that a truckload of spud-based deals is incoming. you're going to find free or discounted fries at places like Wendy's and Fatburger or services like Grubhub and DoorDash.
So, without any further tortured analogies, here are the best deals you're going to find on National French Fry Day.
Free Food on National French Fry Day
McDonald's
The deal: Hop into the mobile app to get a totally free order of fries. No purchase is required.
When: July 13
Wendy's
The deal: Get a free order of fries with any purchase through the mobile app.
When: July 13
Smashburger
The deal: Grab a free order of Smashfries with the purchase of a Cheesy Caramelized Onion Smash. Just drop in the code "FRYDAY" or mention the deal in-store.
When: July 13
Burger King
The deal: Royal Perks members get a free order of Chicken Fries with any $3 purchase.
When: July 13
Wayback Burgers
The deal: Get a free side of French fries with the purchase of a burger or sandwich through the Wayback app.
When: July 13
Sonic
The deal: Get a free order of tots or fries when you make a purchase through the app.
When: July 13
Fatburger
The deal: Get a free order of Fat or Skinny Fries with any purchase made in-store or online. You'll have to mention the promo or drop in the code "FrenchFryDay22" to get the spuds.
When: July 13-19
Penn Station East Coast Subs
The deal: Get a free small order of fries with the purchase of any sandwich.
When: July 13
Pollo Campero
The deal: Celebrate National French Fry Day by grabbing a free side of fries with any entrée purchase. Use the code "GOLDEN22."
When: July 13
Elevation Burger
The deal: Get a free order of French Fries with any purchase made through Grubhub.
When: July 13-19
Charleys
The deal: Rewards app members get free French Fries with the purchase of any cheesesteak.
When: July 13
McDonald's
The deal: Get a free McFlurry (any size) when you make a purchase of at least $1.
When: July 13
IHOP
The deal: Kids get a free entrée of the kid's menu with the purchase of an adult entrée.
When: Through August 21, 4-10 pm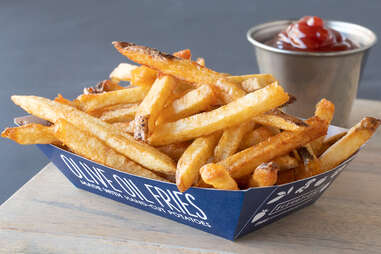 Fry Deals on National French Fry Day
Jack in the Box
The deal: Pop into the app to get two medium orders of French Fries for $2.
When: July 13
Del Taco
The deal: Get a $1 order of medium or small Crinkle Cut Fries with any purchase.
When: July 13-19
Heinz and DoorDash
The deal: To remind potato lovers that ketchup is the Abbott to fries' Costello, you can take $5.70 off any DoorDash order that hits the $15 minimum and includes fries.
When: July 13
Metro Diner
The deal: It is bringing back its Pittsburgh Steak Salad, which is a salad that is topped with French fries, steak tips, blue cheese crumbles, and blue cheese dressing. It'll run you $15.
When: July 13 - August 21
Hot Dog on a Stick
The deal: Get a free surprise (OoOoOo... mysterious) with any fry purchase in-store or online.
When: July 13
Farmer Boys
The deal: Get the Always Crispy Fries for a dollar with any other purchase at participating locations.
When: July 13
Bar Louie
The deal: Every Friday in July, you can upgrade a normal side of fries to a large side for free. You have to order in the bar and it only applies to meals or a side of fries.
When: Every Friday in July
Other Deals on National French Fry Day
Noodles & Company
The deal: If you're a Noodles Rewards member, you can get an add-on for free when you order Mac n Cheese.
When: Through July 13
Carrabba's Italian Grill
The deal: Dine-in and order an entrée to take home a free made-from-scratch Lasagne.
When: Through July 18
KFC
The deal: Get free delivery when you order through the KFC app or website.
When: Through July 24
Marble Slab Creamery
The deal: Rewards members can redeem a randomized prize in the app at any point during National Ice Cream Month. You might get a free small ice cream, BOGO small ice cream, or other smaller discounts.
When: Through July 31
Bonchon
The deal: Get free delivery all month.
When: Through July 31
Ruth's Chris Steak House
The deal: Buy a $150 gift card and get a $25 bonus card that's good through August 31.
When: July 12-13
Pokeworks
The deal: Place an order of at least $30 and you can take $5 off with the code "POKEPICNIC." You'll have to be a rewards member and order either online or through the app.
When: Through July 31