Everywhere You Can Get Free Froyo for National Frozen Yogurt Day
We recommend getting extra creative with the toppings for the occasion.
Part of going out for frozen yogurt is pushing the physical limits on how many toppings you can pack into your cup of froyo swirls. It's nearly impossible to turn down the dazzling toppings bar's unspoken challenge to stack, cookie dough pieces, cheesecake bites, and sour gummy worms (for good measure) to unspeakable heights. That's doubly so on National Frozen Yogurt Day, which arrives this Saturday, February 6.
On this delightful "food holiday," you're basically required to go overboard—more overboard than usual, that is—with your frozen yogurt concoction. That's because major froyo chains across the country are celebrating the occasion with freebies and deals, leaving you with more money to spend on a mountain of brownie bites on top of your favorite flavors.
Here are the best and most worthwhile National Frozen Yogurt Day deals you'll find out there:
Free & Cheap Frozen Yogurt on National Frozen Yogurt Day
TCBY
The deal: Buy a froyo treat and get one of equal or lesser value for free. Just note that this BOGO excludes pints, quarts, cakes, pies, catering, and delivery orders, according to the chain.
When: February 6 from 2-6 pm (local time)
Pinkberry
The deal: Like TCBY, Pinkberry is serving up a BOGO deal for National Frozen Yogurt Day. Order an Original with toppings and they'll throw another one for free if it's of equal or lesser value.
When: February 6
16 Handles
The deal: The chain's rewards members can score almost $5 worth of free froyo. First, they'll get a totally free 3-ounce froyo on this special occasion. On top of that, making a purchase will net them a credit for $2.75 on their accounts for use between February 7-28.
When: February 6
Red Mango
The deal: This froyo purveyor is offering what it says is its customers' favorite promotion: $5 fill ups (plus tax).
When: February 6
Sweet Frog
The deal: Loyalty members can score BOGO froyos all day long. If you're not a member, sign up ASAP.
When: February 6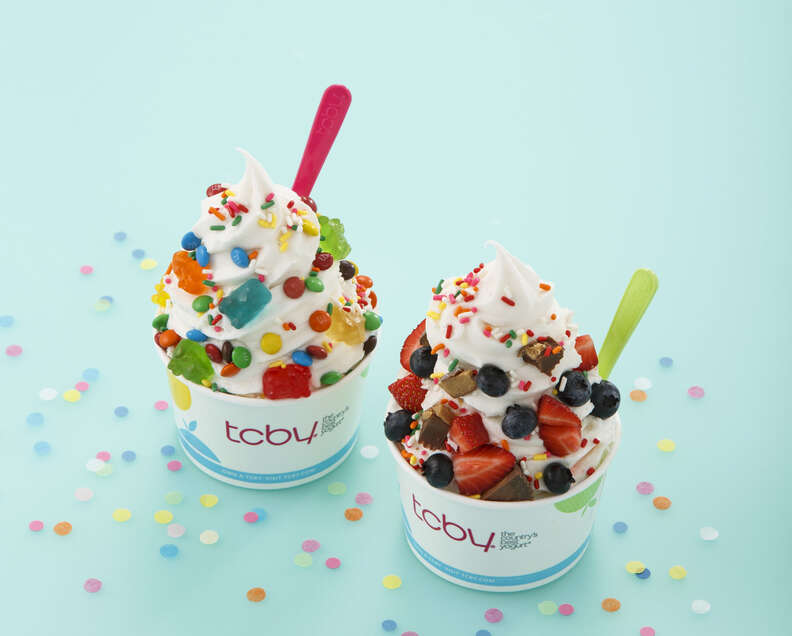 Other Food Deals to Get on National Frozen Yogurt Day
Wendy's
The deal: Fire up the Wendy's mobile app and you can get a free Jr. Bacon Cheeseburger with a purchase.
When: Through February 21
McDonald's
The deal: Spicy Chicken McNuggets are back alongside the chain's spicy Mighty Sauce. Best of all, you can score a free six-piece order through DoorDash when you hit the $20 minimum and use the code "SPICY."
When: February 2-6
Krystal
The deal: Get ten Krystals and ten wings for $10 with the chain's "10 10 10" deal. The offer is valid at Krystal locations or via DoorDash, Uber Eats, and Grubhub.
When: February 6-8
Steak 'n Shake
The deal: Everyone gets a free order of fries. All you have to do is go through the drive-thru. There's no minimum order.
When: Ongoing
Burger King
The deal: Spend at least $1 and the King will throw in a free Kids Meal. Download the app and sign up for an account to redeem this offer.
When: Ongoing