Everywhere You Can Get Free & Cheap Burgers for National Hamburger Day
National Hamburger Day has arrived, and, oh, there are going to be burgers.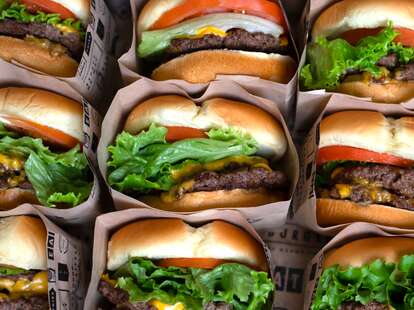 Photo courtesy of Wayback Burger
Once again, National Hamburger Day is upon us, and it couldn't come at a better time. That is, it comes on a day when we as humans will eat food.
It lands on May 28, tacked on toward the end of National Hamburger Month, which is similarly unnecessary in a country that eats as many burgers as the US. But, because we eat burgers, well, a food holiday like this is always welcome. Tons of restaurants across the country are going to be slinging burgers at a discount. You'll find deals at local restaurants, fast casual joints, and the mega fast food chains like Wendy's.
Here are the best deals on burgers you'll find on National Hamburger Day.
Free Burgers on National Hamburger Day
Wendy's
The deal: Make any purchase in the Wendy's app and you can snag a free Junior Bacon Cheeseburger.
When: Through June 5
Burger King
The deal: If you're a Royal Perks member, you can grab a free Hamburger when you make a $1 purchase through the mobile app.
When: May 28
Wayback Burgers
The deal: It has buy-one-get-one-free Classic Burgers.
When: May 28
The Habit Burger Grill
The deal: Sign up for the chain's app and you'll get a free Charburger with Cheese with the purchase of any drink.
When: Through May 31
Friendly's
The deal: Get a free medium sundae with the purchase of any burger to close out National Burger Month. Though, you also have to be a Sweet Rewards Club member.
When: May 28 - June 6
Next Level Burger
The deal: Get two Beyond Burgers for the price of one. It's a BOGO for National Burger Day.
When: May 28
Mooyah
The deal: Use the app to get a free burger bounceback offer when you spend $15 over the weekend of May 28.
When: May 27-30
Burger Deals on National Hamburger Day
Wendy's
The deal: Use the Wendy's app to get buy-one-get-one-for-$1 Premium Burgers or chicken sandwiches.
When: Through May 31
Smashburger
The deal: Grab a Double Classic Smash for $5 on National Hamburger Day. If you're ordering on the website or the mobile app, use the code "Hamburger."
When: May 28
Dog Haus
The deal: Get any of its signature Haus Burgers for $5 on National Hamburger Day.
When: May 28
The Habit Burger Grill
The deal: Take $1 off Habit's new Cubano Char burger.
When: Through May 31
BurgerFi
The deal: The Hoppy Meal deal gets you a cheeseburger, fries, and a draft beer for $14. You can sub in a soda for the beer as well.
When: Through May 31
Wendy's
The deal: Get free delivery in the mobile app for National Hamburger Day and a little while in front and behind it.
When: May 23 - June 5
Local Deals on National Hamburger Day
Eat Up Drive In - Phoenix, Arizona
The deal: Order a burger and get a free order of fries.
When: May 28
Stand-Up Burgers - Chicago, Illinois; Culver City & Berkeley, California
The deal: Get a free regular side with the purchase of any vegan burger. Though, you can't get that deal through any delivery service.
When: May 28
Other Deals on National Hamburger Day
Del Taco
The deal: The chain is offering a free Cheddar Chicken Roller when you spend at least $3 at a Del Taco while Mercury is in retrograde.
When: Through June 2
Wendy's
The deal: For National Foster Care Month, grab a free beverage in any size through the Wendy's app with an order. Each time this is done, Coca-Cola and Dr Pepper will donate to the Dave Thomas Foundation for Adoption up to $500,000. It refreshes daily, so you can grab a free drink every day in May.
When: Through May 31
7-Eleven
The deal: If you're a first-time customer through 7NOW, you can grab a free pizza with the code "PIZZA."
When: Through June 6
Pizza Hut
The deal: Get a Tastemaker with three toppings for $10 right now.
When: Through June 12
Red Lobster
The deal: Spend $50 on a Red Lobster gift card to get a coupon for $10 off an order of at least $30.
When: Through June 26
Hungry Howie's
The deal: It's offering a mix and match deal for Memorial Day weekend. Pick any two items off the set menu for $6.99 each. That menu includes its flatbreads, Howie Bread, a medium pizza, subs, salads, and more.
When: May 27-30
Marco's Pizza
The deal: Take 25% off your first order after you download the Marco's Pizza app.
When: Ongoing
IHOP
The deal: Drop at least $25 on gift cards, and you'll get a bonus card worth $5.
When: Through July 17
Miller's Ale House
The deal: Get a free $10 gift card when you buy a $50 gift card. The bonus cards are valid from July 1 to August 31.
When: Through June 26
Long John Silvers
The deal: Get a free Lemon Bundt Cake with the purchase of any ten-, 12-, and 16-piece family meal.
When: Through June 26
Pieology
The deal: Trim $5 off any $25 order with the code "MEMORIALDAY."
When: May 28-30
Peter Piper's Pizza
The deal: Grab two large one-topping pizzas for $24.
When: Through July 24
Chopt
The deal: Visit your local Chopt four times in May and get your next salad on the house.
When: Through May 31
Whole Foods
The deal: The Rosé Wine Sale is happening now. For seven days, you can take 20% off all rosés.
When: May 25-31
Barefoot Wine
The deal: The code "GRILL" will get you 15% off an order with $5 ground shipping. The offer is valid on these wines: Cabernet Sauvignon 750ml, Rich Red Blend 750ml, Cellars Chardonnay 750ml, Cellars Pinot Grigio 750ml, Cellars Moscato 750ml, and Cellars Pink Moscato 750ml.
When: Through May 31
Carrabba's Italian Grill
The deal: Spend $50 on a gift card to get a $10 bonus card in return.
When: Purchase through June 19
McAlister's Deli
The deal: You'll grab a $5 gift card when you spend $25 on gift cards.
When: Through June 19
Schlotzsky's
The deal: Grab a free $5 gift when you buy a $25 gift card.
When: Through June 20
Moe's Southwest Grill
The deal: Get a free $5 gift card when you spend $25 on gift cards.
When: Through June 19
Blind Barrel Whiskey Subscription
The deal: The whiskey subscription service is offering 10% off a subscription with the code "MEMORIAL10."
When: Through May 31
Godiva
The deal: Take 20% off orders across the chocolate company's website. Use the code "MEMORIAL."
When: May 27 - June 3
Bonefish Grill
The deal: Get a free $10 gift card when you spend at least $50 on a gift card. The bonus card can be used from June 21 to August 21.
When: Purchase through June 19