Everywhere You Can Get Free Hot Dogs for National Hot Dog Day
July is a bad month to be a hot dog. Odds are, you're going to be eaten. It's not just peak cookout season, more than 150 million hot dogs are wolfed down on the Fourth of July. Then, just days later, it's National Hot Dog Day on Wednesday, July 18.
To celebrate the day, several major chains across the country -- Dog Haus, 7-Eleven, Sonic, Pilot Flying J, and more -- are offering deals for free or super-cheap hot dogs. You might see if the best hot dogs in the country are available in your backyard, or you might take a look at all the places dishing up free and discounted dogs (see our list below).
It makes sense that America would want to celebrate its unofficial national food. Americans throw back 20 billion dogs annually. In any case, get your ketchup and mustard ready, and get out there. You'll be double-fisting hot dogs in no time.
Free Hot Dogs for National Hot Dog Day
Pilot Flying J
The deal: This is pretty straightforward. Download or open the myPilot app, and you'll have an offer waiting for you. It gets you a free hot dog or another item off the roller grill. That's it. Real easy.
When: July 18
Dog Haus
The deal: Download and register for the Dog Haus app and get a free Haus Dog if you're a new user. Only available on dine-in orders.
When: July 18
Love's Travel Stops
The deal: Grab a free hot dog when you're passing through. All you have to do is flash a barcode at the register, which you can find on any of the travel stop's social media channels.
When: July 18
QuikTrip
The deal: Open up the QT app while you're stopping for gas, and you'll find an offer for a free hot dog.
When: July 18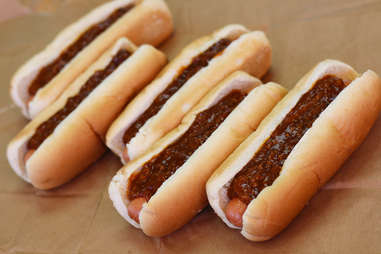 Hot Dog Deals for National Hot Dog Day
7-Eleven
The deal: Pick up any of the convenience store's Big Bite hot dogs for a buck. That includes The Reaper, which is topped with a Carolina Reaper seasoning. Condiments like chili, cheese, pickles, onions, and relish are free.
When: July 18
Wienerschnitzel
The deal: It's an easy day to buy lunch for the office. You can grab five chili cheese dogs for just $5.
When: July 18
Sonic
The deal: It's not specifically for National Hot Dog Day, but Sonic offers half-price corn dogs daily from 2-4pm. Think of it as a corn dog happy hour.
When: Ongoing
Portillo's
The deal: Grab a pair of hot dogs for only $5 as Portillo's celebrates hot dogs all week long.
When: Through July 22
Hwy 55
The deal: From 2-5pm, you can get a 99-cent dog, reports WTKR.
When: July 18
Philly Pretzel Factory
The deal: Grab a $1 pretzel dog all day long. Additionally, the first 100 people will get a card for a $1 pretzel dog every day in August.
When: July 18
Harris Teeter
The deal: Load up for your next cookout. Get 14 oz. Ball Park Angus Franks for just $1.99 and an eight-pack of Wonder hot dog buns for $0.99.
When: July 18
Hopdoddy Burger Bar
The deal: All 23 locations are offering a deal on the Great Hambino, a burger with a dog on top. Then it's layered with great hot dog fixin's like relish, diced onions, pickles, peppers, and mustard. In honor of this sacred hot dog holiday, the Great Hambino will be just $5 during happy hour.
When: July 18, 3-6:30pm
Other Food Deals on Hot Dog Day
McDonald's
The deal: Get any sandwich except a Signature Sandwich or a Quarter Pounder for just $1 with the McDonald's app. Here's everything you need to know.
When: Ongoing
Dairy Queen
The deal: Sign up for the DQ mobile app, and you'll automatically get a free small Blizzard. Here are the details.
When: Ongoing
More Hot Dog Deals?
If you know of National Hot Dog Day freebies and deals we missed, email us at news@thrillist.com and we'll add 'em here.
Sign up here for our daily Thrillist email and subscribe here for our YouTube channel to get your fix of the best in food/drink/fun.

Dustin Nelson is a News Writer with Thrillist. He holds a Guinness World Record but has never met the fingernail lady. Follow him @dlukenelson.