The National Park Foundation Has Helped Restore Access to 10,000 Miles of Trails
Straightened out, that's all the way from New York City to Sydney, Australia.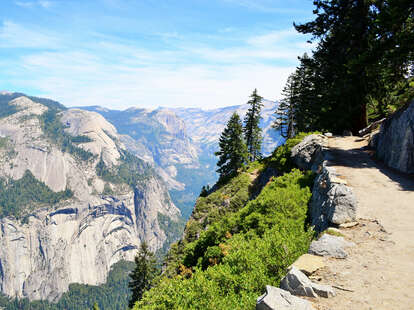 A year of social distancing has birthed a whole new love of the outdoors in many people, whether they started hiking more than usual or took their tentative first steps into the wilderness this year.
So, the timing of this National Park Foundation (NPF) announcement is fortuitous. The NPF has announced that, in partnership with Nature Valley, it has completed restoring access to 10,000 miles of national park trails over the last three years. That's about the equivalent of flying from New York City to Sydney.
The restorations took place in national parks across the country, almost touching every corner of the contiguous US, as well as one park in Hawaii. All told, the project improved trails in 19 parks spread across 16 states.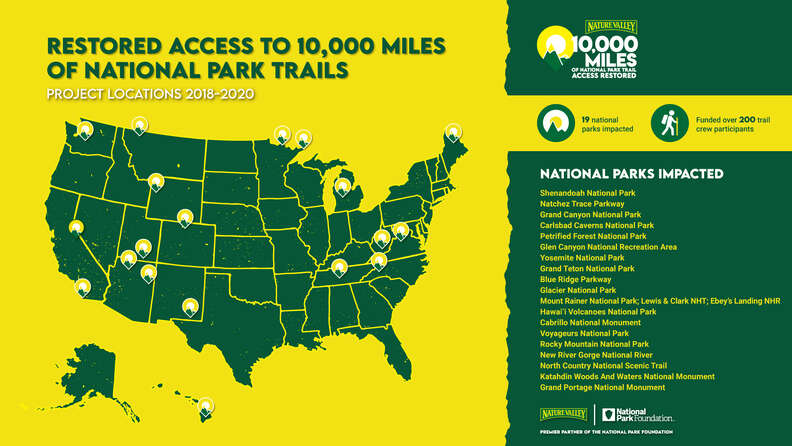 The restored access includes a lot of work that goes unseen by visitors. Still, there's plenty that regular park-goers are going to notice. "From a visitor perspective, it's about safety and connecting to the natural resources, whether it be access to a vista overlook or to meadows where you can see the native wildflowers better," Katherine Chesson, Vice President of Programs and Partnerships at the NPF, told Thrillist. "Also, making sure that there's good wayfinding to get from one trail to another."
Lots of the restoration work, which includes removal of invasive species, is done through NPF-funded service corps. "They're groups of young people who go out and spend six-to-eight-to-ten weeks at a national park, restoring these trails, improving campground sites, etcetera," Chesson said. "We provide grants to these non-profit partners who recruit and train and employ the corps participants during their term."
This isn't the end of this trail restoration project, though. The NPF has announced that Nature Valley is extending its partnership for another three years, committing another $3 million to restore access to another 10,000 miles of trails. Just a few more reasons it's worth heading to your nearest national park this weekend.
Sign up here for our daily Thrillist email and subscribe here for our YouTube channel to get your fix of the best in food/drink/fun.