Whole Foods Has Half-Price Pizzas for the Next 2 Weeks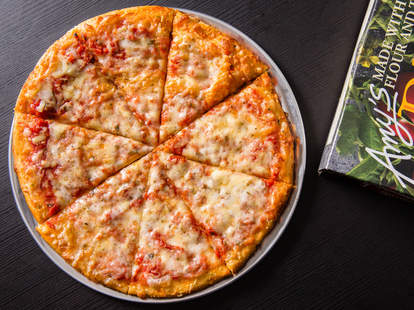 It's National Pizza Month, and your belly can't resist the allure of all that greasy, tomato sauce-smeared goodness. Whole Foods can't resist the allure either.
Tons of restaurants have been celebrating the cheesy month-long holiday every day in October. Whole Foods is going to join the party a little late, but, as your parents probably said with a sigh, better late than never. Amazon Prime members can get 50% off all frozen pizzas at Whole Foods from October 23 through November 5. It's not free pizza, but it's hard to argue with a deal like that.
Prime members can get the discount the same way they get any discount at Whole Foods. Half-price pizza ought to give members something to be happy about after the grocer has mostly been in the news for negative reasons over the last couple of months. The discount will automatically be applied at the register. 
If you're not a Prime member, the month can still bring lots of delicious, cheap pizza to your face. (Check out Thrillist's National Pizza Month deals roundup.) Pizza Hut is doling out free gift cards on Reddit, California Pizza Kitchen is offering one free take-and-bake pizza, and there are tons of other deals for the pizza-famished masses. 
Sign up here for our daily Thrillist email and subscribe here for our YouTube channel to get your fix of the best in food/drink/fun.