Everywhere You Can Get Free Pretzels Today for National Pretzel Day
Courtesy of Auntie Anne's
If you've been waiting to try out your best rendition of Kramer's "these pretzels are making me thirsty," your day has arrived. 
Thursday, April 26 is National Pretzel Day, which means you can spend the day tracking down delicious, free knots of dough. It's a good day to determine the official, unassailable answer to how a soft pretzel is best enjoyed. Nacho cheese? Cream cheese? (That's the correct answer.) Yellow mustard? A bit of salt and no dip? It's your choice, and there are a whole bunch of places offering up a free pretzels and other deals to help you decide.
Here's a running list of free pretzels and deals from major pretzel purveyors across the country: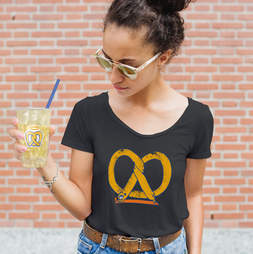 Courtesy of Auntie Anne's
Free Pretzel Deals
Philly Pretzel Factory
The deal: For the 11th consecutive year, the pretzel shop with 170 locations is giving everyone a free pretzel all day long. Some shops are even handing out cards that earn you another free pretzel on another day. It's pretzel mania.
When: April 26
Pretzelmaker
The deal: This is just about as easy as the Philly Pretzel deal. Show a cashier you're following Pretzelmaker on Facebook or Instagram, and they'll hand you a free pretzel. 
When: April 26
Wetzel's Pretzels
The deal: Super easy deal. Show up, get a pretzel. Boom. You're done. (Unless you're at a Wetzel's in an arena, stadium, or amusement park. They're not giving you freebies.)
When: April 26
Auntie Anne's
The deal: Designers like Mike Perry (known for his work on the credits of Broad City) have contributed to a limited edition line of clothes to benefit Alex's Lemonade Stand Foundation. But that's not free pretzels. Head to an actual Auntie Anne's and get a free Classic Pretzel with the purchase of any other pretzel when you download the shop's app.
When: April 26
Hofbrau Bierhaus NYC
The deal: A pretzel and beer is a classic combination. Grab a liter of Hofbrau Bier and Bierhause will give you a free small pretzel from the Bavarian pretzel-maker Prop & Peller.
When: April 26
More Pretzel Deals
Ben's Soft Pretzels
The deal: Get to a Ben's for a nearly free pretzel in honor of the food holiday. All locations (except stadium locations) will hand you a soft pretzel if you make a $1 donation to the Intrepid Fallen Heroes Fund.
When: April 26
Cumberland Farms
The deal: Pick up a pretzel at the convenience store, and you'll get a free Chill Zone beverage.
When: April 26 between 12pm and 6pm
Godiva
The deal: Get a free chocolate-covered pretzel cannister with any purchase from Godiva.com all the live-long Pretzel Day. 
When: April 26
Other Food Deals for National Pretzel Day
Applebee's
The deal: Your neighborhood grill is offering $1 margaritas every day through Cinco de Mayo. It's not a pretzel, but if they're making you thirsty, this might help.
When: Through May 5
Wendy's
The deal: Download the Wendy's app and you'll find a deal for buy-one-get-one-free Dave's Single burgers. There is a coupon for a reduced-price salad as well. 
When: Ongoing
Krispy Kreme
The deal: Download the donut shop's app and you'll earn yourself a free donut for signing up.
When: Ongoing
Baskin-Robbins
The deal: It's an exercise in delay gratification, but you can lay the foundation for a future free ice cream cone today. Sign up for the Baskin-Robbins newsletter by April 30, and you'll be emailed a coupon on May 1 for a buy-one-get-one-free ice cream cone or dish. The coupon is good between May 1 and May 5. 
When: Through April 30
More Free Pretzel Day Deals?
If you know of National Pretzel Day freebies and deals we missed, email us at news@thrillist.com and we'll add 'em here. 
Sign up here for our daily Thrillist email and subscribe here for our YouTube channel to get your fix of the best in food/drink/fun.

Dustin Nelson is a News Writer with Thrillist. He holds a Guinness World Record but has never met the fingernail lady. Follow him @dlukenelson.