Celebrate National Rum Day With a Coloring Book & Impossible Puzzle From Kraken Rum
Get lost at sea in a squid ink black puzzle.
A boozy holiday calls for more than just the booze of the day. It requires an accompaniment. Friends. A bar. Corn hole. Something. In the midst of a pandemic, the options are without question more limited.
For National Rum Day on August 16, Kraken Rum has come up with some unexpected activities that might get you a little more in the merrymaking spirit. A pair of at-home activities are up in its store to keep you busy whenever you decide to celebrate the sugary depth of a rum cocktail. 
Kraken has launched a deep-sea-themed coloring book with a whole lot of tentacles that need filling in. (Also, if you aren't a huge rum fan but are excited for Seattle's new hockey team to start playing -- something that won't happen for a couple of years -- the coloring book isn't a bad way to kick off your love affair with the Seattle Kraken.)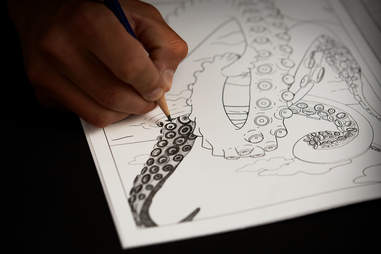 Courtesy of Kraken
And while the puzzle-mania of early social distancing has waned, that might be because you've conquered the puzzles in your house and thought they were a bit too easy. Well, Kraken has an all-black puzzle that will eat up many nights of work. In addition to being headache-inducing, the tricky puzzle comes with a surprise. There's a glow-in-the-dark message hidden in the (squid) inky depths of the puzzle. If you complete it and get the code, it will "unlock a prize at the Kraken merch store," according to the rum slinger's announcement. 
Alternatively, if you're lost at sea in the 18th century and don't have a healthy fear of the kraken, these would also be nice time-killing activities between ports. Not sure about the delivery options to ships lost at sea, though.
Courtesy of Kraken
Sign up here for our daily Thrillist email and subscribe here for our YouTube channel to get your fix of the best in food/drink/fun.