Everywhere You Can Get Free Sandwiches Today for National Sandwich Day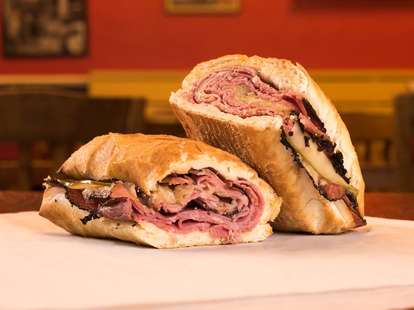 If you've recovered from your candy-induced post-Halloween food coma, listen up. It's time to eat healthy a sandwich. National Sandwich Day is today, November 3, and that means there are free and cheap sandwiches a short drive from where you're sitting, probably.
Why is this happening? Well, it only kind of makes sense. The sandwich was popularized by John Montagu, the fourth Earl of Sandwich, in the 18th century. He liked to be served a little beef between a couple slices while playing cards, and friends would ask to be served "the same as Sandwich." That's how we get to the sandwich, thankful that the Earl's name wasn't Harvey Horseanus, Earl of Cat Diarrhea.
November 3 is the Earl's birthday. We carbo-load to honor him.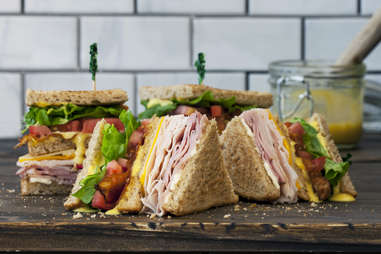 Free Sandwiches
Arby's
The deal: No strings. You just get a free roast beef sandwich if you sign up for the Meat Mountain's newsletter.
When: No stated end date
Subway
The deal: Buy a sandwich and a 30-ounce beverage and get a sandwich of equal or lesser value for free. Pretty simple. Plus, Subway will donate a meal to the hunger relief organization Feeding America. It feels good to eat sandwiches for a cause.
When: November 3
Potbelly Sandwich Shop
The deal: Drop in and get yourself one of the shop's pastrami sandwiches, and you'll get one free if you sign up for or are a member of the restaurant's rewards program, Potbelly Perks.
When: November 3
QuickChek
The deal: Like Subway, QuickChek is offering up a buy-one, get-one deal. Buy a six-inch sub, get a freebie after you download a coupon from the shop's mobile app. As an added bonus, if you download the app for the first time between November 6 and 12, you get a coupon for a free six-inch sub you can redeem later.
When: November 3
Earl of Sandwich
The deal: The chain named for the man himself is offering buy-one, get-one sandwiches with this coupon. The Earl would be proud.
When: November 3
Corner Bakery Cafe
The deal: Members of the chain's eclub get buy-one, get-one free sandwiches with this coupon.
When: November 3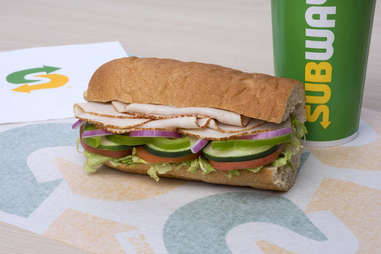 Other Sandwich Deals
Quizno's
The deal: The hot sub chain will offer a deal on its most popular sandwich. The eight-inch Classic Italian is just $5 at all participating US locations.
When: November 3
McAlister's Deli
The deal: McAlister's is offering its classic Club for $4 in honor of the Earl's birthday.
When: November 3
Capriotti's Sandwich Shop
The deal: The largely west coast sandwich shop is giving out free upgrades for National Sandwich Day. That means if you order a nine-inch sub, you can get a 12-inch sub for the same price.
When: November 3
Firehouse Subs
The deal: The first 50 diners at any Firehouse location on National Sandwich Day get a coupon for a free drink and chips with a sub purchase on their next visit. The coupons are good through November 30.
When: November 3 (coupons good through November 30)
Schlotzsky's
The deal: Get a small Original sandwich for just $2.99.
When: November 3
Jersey Mike's
The deal: If you're a member of the chain's email club or follow it on social media, you can get your hands on a coupon for $2 off any regular sub.
When: November 3-4
Penn Station East Coast Subs
The deal: Six-inch subs are $3.99.
When: November 3 from 4pm to 9pm
Smashburger
The deal: While it's not related to National Sandwich Day, the shop is selling a $54 pass that will get you $1 burgers for 54 days. Full details here.
When: November 15 through January 9, 2018
There you have it. Enjoy some free sandwiches and, for the love of god, if you eat a hot dog on the Earl's birthday don't post about it on Instagram. It might be a sandwich, but it's not the way the Earl intended it.

More Free Sandwiches?
If you know of any sandwich freebies or deals we missed, email us at news@thrillist.com and we'll add 'em here. As always, celebrate responsibly.
Sign up here for our daily Thrillist email, and get your fix of the best in food/drink/fun.
Dustin Nelson is a News Writer with Thrillist. He holds a Guinness World Record but has never met the fingernail lady. Follow him @dlukenelson.