Chick-fil-A Forgot National Sandwich Day Is on a Sunday & It Was Really Awkward
Popeyes reignited the Great Chicken Sandwich War of 2019 by relaunching its sold-out fried chicken sandwich with a clear swipe at Chick-fil-A, but so far, the latter chain is bungling its response to the provocation. Chick-fil-A sent an email to loyalty members this week, inviting them to come and enjoy their favorite sandwiches on National Sandwich Day, November 3. The only problem? November 3 is a Sunday. Chick-fil-A is famously closed on Sundays.
In fact, Chick-fil-A's longtime refusal to open on Sundays is the center of Popeyes' flagrant trolling. It's one of the key reasons why Popeyes, a formidable new force in the chicken sandwich arena, decided to resume sales of its sandwich on this exact date. Yes, it's also National Sandwich Day, but more importantly, Chick-fil-A will be closed. This is petty business 101 and Chick-fil-A has yet to gain the upper hand.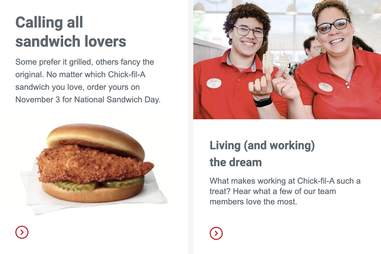 This screenshot shows the email blunder.
Following the initial cordial invitation to dine at its restaurants on -- gasp -- a Sunday, Chick-fil-A quickly and awkwardly followed up with an additional email, "[apologizing] for the confusion" while firmly indicating that they will remain closed on Sundays.
Of course, Popeyes couldn't resist rubbing salt on the chicken chain's wound while simultaneously promoting the return of its own sandwich. Put another point in the Popeyes column.
Despite all the pettiness, the tweet would be more of a zinger if Popeyes hadn't run out of chicken sandwiches for well over two months in the first place.
Nevertheless, if you choose to partake in National Sandwich Day, just know that you'll have to delay the festivities or partake early if you're a Chick-fil-A fan. Of course, if Chick-fil-A really wanted to get back at Popeyes, it would open on Sunday -- just this one Sunday -- after all.
Sign up here for our daily Thrillist email and subscribe here for our YouTube channel to get your fix of the best in food/drink/fun.
Kat Thompson is a staff writer at Thrillist. Follow her on Twitter @katthompsonn.