Welcome Summer With a Totally Free Smoothie Just for Wearing Sandals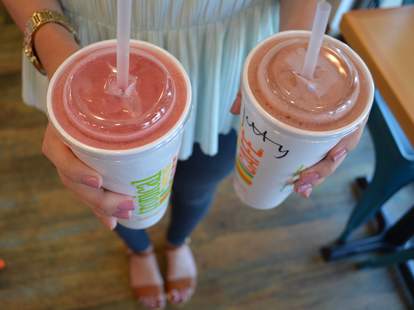 The cascade of special, mostly made-up holidays like Friday's National Doughnut Day or May's arbitrary but real National Masturbation Month is mostly pointless. At least, they're pointless until you get free shit and then National Doughnut Day is absolutely real and everyone should get the day off work. 
With that in mind, meet National Flip Flop Day. Yes, it's even more pointless than Masturbation Month, which, once again, is a real thing. However, it's worth knowing about because Tropical Smoothie Cafe is doling out free "sunshine smoothies" in a 20th-anniversary cup on National Flip Flop Day. All you have to do is bear your lower digits in one of its 500 U.S. locations. 
"It's been over 10 years since we started National Flip Flop Day to show appreciation for our guests and mark the kick-off to summer," said Mike Rotondo, CEO of Tropical Smoothie Cafe.
The free 16-ounce smoothies which "capture the taste of summer," will be available from 2 p.m. to 7 p.m. on June 16. The company's sunshine smoothie blends orange, orange juice, banana, pineapple, and mango and, best of all, it's free if you show your manicured, mangled or fungal toes in flip flops.
Sign up here for our daily Thrillist email, and get your fix of the best in food/drink/fun.
Dustin Nelson is a News Writer with Thrillist. He holds a Guinness World Record but has never met the fingernail lady. Follow him @dlukenelson.