In case you don't have all the many made-up "food holidays" marked on your calendar, National Taco Day is coming up on Wednesday, October 4. Unlike similar days dedicated to donuts, ice cream, and coffee, the celebration isn't particularly known for insanely good deals or free food, but that's not stopping Taco Bell from going Doritos Locos for the occasion with special gift boxes full of tacos.
On Wednesday only, T-Bell is unleashing what's dubbed as the National Taco Day Gift Set at its restaurants across the country. The limited edition boxes are $5 and come loaded with four hard-shell tacos: a Nacho Cheese Doritos Locos Taco, a Cool Ranch Doritos Locos Taco, a Fiery Doritos Locos Taco, and a classic, decidedly less loco Crunchy Taco. Unfortunately, it doesn't look like the boxes include any festive party favors, taco t-shirts, or other decorations, but that's not stopping your from rolling up to the drive-thru with your own. 
Recommended Video
The 'Black Mirror' Killer Pizza Truck Is Real Now, Thanks To Pizza Hut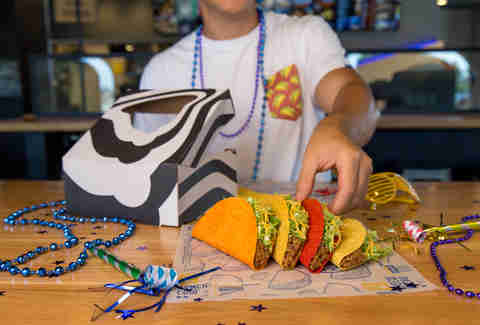 In the lead up to National Taco Day, the fast food chain also launched an animated holiday special called "Glen and The Magic Taco," which features The Year Without a Santa Clause-like characters including a Chef Glen that's based on Taco Bell's founder, Glen Bell. The company is also treating a group of lucky taco connoisseurs to an exclusive, five-course dinner at its top-secret test kitchen at its California headquarters. It'll mark one of the few times the insane stunt food lab will open to the public.
Unfortunately, you'll need a reservation to attend the fancy dinner, but at least they've got the taco gift boxes for the rest of us. Maybe they'll throw in some extra taco wrappers so you can make a party hat for yourself, too. 
Sign up here for our daily Thrillist email and subscribe here for our YouTube channel to get your fix of the best in food/drink/fun.