Everywhere You Can Get Free & Cheap Food Today for National Ugly Sweater Day
Courtesy of Ike's Love and Sandwiches
Can you feel it? That magical feeling? Everyone's favorite holiday is here, and the excitement is palpable.
Friday, December 20, is National Ugly Sweater Day 2019, and you can feel the electricity in the air. It's mostly static electricity from pulling your wool sweater out of storage, but nonetheless, electricity! To celebrate (er... capitalize) on the holiday, restaurants across the country are offering food discounts and freebies to people donning an ugly sweater today. (Likely with apologies to people who just wore a sweater without knowing what day it was and were told how wonderfully ugly their sweater is. Whoops. Sorry.)
Here are the best deals you'll find on this, our nation's celebration of scratchy outerwear.
Free Food on National Ugly Sweater Day
Tijuana Flats
The deal: Wear an ugly Christmas sweater to get a free small order of guacamole with the purchase of any adult entrée. 
When: December 20
BJ's Restaurant and Brewhouse
The deal: Place an order of at least $20 through Postmates and you can get a free Pizookie with the code "PIZOOKIE."
When: December 16-22
Jack in the Box
The deal: Get a free order of the chain's new Mini Munchies when you order at least $10 worth of grub through DoorDash. Mini Munchies have mozzarella sticks, onion rings, and curly fries in a single order. All your favorite sides at once. Just use the code "MINIMUNCHIES."
When: December 18-22
Burger King
The deal: If you're taking a flight that's delayed, Burger King will give you a totally free Impossible Whopper. Just enter your delayed flight information into the BK mobile app, and it'll instantly give you a coupon for a free Impossible Whopper to use at your leisure. 
When: December 18-30
Carrabba's Italian Grill
The deal: Order one of the restaurant's four signature dishes -- Chicken Bryan, Chicken Marsala, Pollo Rosa Maria, or Chicken Trio -- and you'll get a free order of Lasagne to take home for the next day. 
When: December 11-22
&Pizza
The deal: The pizza shop's Quid Pro Bogo deal -- yes -- will get you BOGO pizzas. You have to email the offer to a friend to get the coupon. You get one and they get one when you send it. It's available at locations except for airport locations and the House Rayburn Office Building.
When: Through December 24
Tipsy Scoop
The deal: The ice cream shop has made a new boozy new ice cream flavor with Angry Orchard based on the Angry Orchard Unfiltered Cider. You can get a free scoop of it today at the Manhattan and Brooklyn locations as long as you're at least 21. 
When: December 21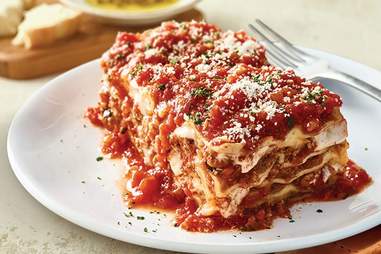 Courtesy of Carrabba's Italian Grill
Food Deals on National Ugly Sweater Day
Ike's Love and Sandwiches
The deal: Wear any kind of ugly sweater into Ike's and show that you're following the shop on Instagram to get $3 off any sandwich. 
When: December 20
Baskin-Robbins
The deal: Order through DoorDash to get $5 off an order of at least $10, plus a $0 delivery fee when you use the code "TISTHESEASON."
When: Through December 22
Atlas Coffee Club
The deal: You can trim up to $50 off all coffee gifts. No code or ugly sweater is required. 
When: Through January 1, 2020
Other Deals Available on National Ugly Sweater Day
Applebee's
The deal: Applebee's Neighborhood Drink of the Month is bringing back the Dollarita. It's a one-dollar margarita. Only, this month, it's called a Merry Dollarita and comes with a little pomegranate in the mix. 
When: Through December 31
Cicis
The deal: A three-course carryout meal will run you just $9.99 this month. It comes with a 10-piece order of Cheesy Bread, a large one-topping pizza, and a nine-count order of cinnamon rolls when you use this coupon. 
When: Through December 31
Wendy's
The deal: For just $2, you can buy a Wendy's Frosty Key Tag that will land you a free Frosty with any purchase every day for a year. 
When: Can be purchased through January 31, 2020
Shake Shack
The deal: Get free delivery from GrubHub with an order of at least $10. 
When: Through December 31
Burger King
The deal: Get free delivery from Burger King on delivery orders of at least $10 through GrubHub. 
When: Through January 6
Snuffer's
The deal: Get yourself a free order of Cheddar Fries when you sign up for the Snuffer's loyalty program through December 31. 
When: Through December 31
Winc
The deal: The code "wincholidays" is going to land you 35% off your first order from the hand-picked wine subscription service. 
When: Through December 31
B.GOOD
The deal: For every $1 donation you make to B.GOOD's partners at FoodCorps -- in-store or through the B.GOOD app -- you'll get a coupon for a free side, shake, or smoothie. 
When: December 3-31
Kroger Wine
The deal: Get set for the holidays. Take 40% off Kroger Wine's Winter Whites 12-pack with the code "SAVE40." You can also get 20% off the Winter Whites six-pack with the code "SAVE20."
When: December 10 - January 4
Sign up here for our daily Thrillist email and subscribe here for our YouTube channel to get your fix of the best in food/drink/fun.