A fine drink can be an avenue into great conversation. It can be a thing to discuss on its own. That sounds like an argument for drinking expensive wines and whiskey that's older than you are. It's not. A crappy drink can do the same thing. The lesson here is that an interesting drink can be a conversation starter. Sometimes interesting means good. Sometimes interesting means, "Oh my, isn't that an interesting haircut."
With that in mind, here are 11 wines (or wine-influenced alcohols) you can imbibe on National Wine Day (Friday, May 25) that are strange and surprising in some way. They can fuel good conversation, even if it's just about how weird the wine is. 
Recommended Video
Thrillist's Best (and the Rest): What You Actually Need to Know About Natural Wine
Gik Blue Wine
After a much-talked-about release, this sweet blue wine finally arrived in the US late last year. Made with red and white grapes from vineyards in La Rioja, Zaragoza, León, and Castilla-La Mancha, the grapes are mixed with organic pigments partially derived from grape skins to turn the wine an electric shade of blue.
Tank Garage Winery
Napa's Tank Garage Winery makes a conscious effort to break away from the usual Napa milieu. The winery's home feels like a brewery taproom with games and a laid-back vibe. It's housed in an old gas station saturated with a love of retro Americana. The bottles follow suit, with alluring designs. In particular, Chromes Dreams is the story of the winery in a single bottle. It's a "love letter to the classic American automobile," with the wine housed in the world's first chrome wine bottle. The founder tells Thrillist it wasn't an easy feat to make it happen, but it was obviously worth the work. Look at that thing at the top of the page. It belongs on a mantle.
The wines run between $30 and $70, and it's absolutely worth every penny. Try the 2016 Eddie, named after the founder of the garage whose Indian Motorcycle sits on display at the winery. 
Apple Jalapeño Pepper Wine
You probably haven't tasted anything quite like this Maple River Winery release. The apple wine is made with jalapeños. It has a little spice to it, but the sweetness of the apples mellows out the pepper so it's not a flavor that has any real heat. That's good because serving wine with a milk chaser might induce gagging. It's a fun flavor, but you'll probably want a bottle of something else on hand. 
Cabernet Coffee Espresso
Also in the category of things you've probably never tried is this canned wine. It's one of two lightly carbonated wines combining wine and coffee from Friends Fun Wine. Though, don't expect to fo full Four Loko with this. It's caffeine free. It's definitely a conversation started, but, like with the jalapeño wine, it's best served as a novelty before you move on to something different.
Orin Swift Machete
David Phinney's Orin Swift bottles have collector appeal because of the design. The label art is outrageous and beautiful. They look a bit like what might happen if Robert Rodriguez did art direction for wine bottles, and not just because one of the winery's most popular bottles is called Machete. The wine inside Machete bottles is just as appealing as the design. Wine Spectator called Machete one of the best wines of 2016.
Books and Bottles Book Club
Pairing wine and books is obviously a good idea. Yet, the Francis Ford Coppola Winery has managed to make it sound fresh and exciting with Books and Bottles. In partnership with Tall Poppy Writers, the club sends you two bottles of wine and a novel written by a female author every quarter. The second volume delivers either the suspense novel The Blackbird Season by Katie Moretti or Dreaming in Chocolate by Susan Bishop Crispell in addition to Francis Ford Coppola's Director's Chardonnay and the Diamond Collection Red Blend.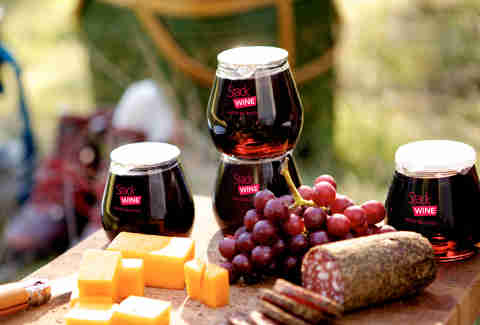 Stack Wine
The wine doesn't compare to what you're getting from Orin Swift or Tank Garage Winery, but it's hard to imagine a better design for a picnic or afternoon at the beach. A "bottle" of Stack Wine is four glasses of wine stacked on top of each other in shatterproof containers. Each glass has its own top, allowing you to dole them out to grateful friends like the benevolent ruler of your beach towel.
Garlic Wine
This totally exists, and it's about what you'd expect. Some user reviews say the flavor grows on you. On the other hand, it's still garlicky, and you're probably going to take a pass on it for date night.
Wine Day drinks that aren't quite wine
Ommegang Saison Rosé
The Ommegang brewery is no stranger to making blends and experimenting with wine. This new summer seasonal is a tart blend of Saisons that can be the "rosé all day" for beer drinkers. One is brewed with hibiscus flowers and fermented with chardonnay grape juices. The other is oak-aged. They come together in a dry beer that isn't heavy. It's full of delicious malt and wine flavors, and it doesn't go light on the alcohol with a 7.7% ABV. 
Dogfish Head Mixed Media
Dogfish is another brewery with a history of making wine hybrids. Mixed Media is an ale with a subtle spice and fruity body. It comes about as close to being a wine as a beer is allowed to. In the bottle, 51% of the fermentable sugars come from grain and 49% come from white wine grapes.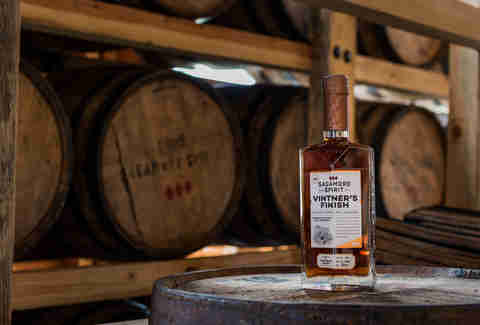 Sagamore Reserve Vinter's Finish
While those beers incorporate strong wine flavors, this rye goes a little more subtle on the wine. Though, you're certainly getting more than a hint. The award-winning whiskey is aged four years and finished in pinot noir, cabernet sauvignon, and port barrels before the straight rye whiskeys are blended.
 
Pinot Spruce Gin
This gin comes from Rogue, which is better known for beers like Dead Guy Ale. This award-winning gin takes Rogue's Spruce Gin and ages it for four-to-six months in pinot noir barrels. With 100 pounds of cucumbers in every batch, it has layers with strong flavors of oak and pinot noir. It can be served straight or you can get creative and make surprisingly rich cocktails.
Sign up here for our daily Thrillist email and subscribe here for our YouTube channel to get your fix of the best in food/drink/fun.